'Arthur Avenue Heritage Tour'
In that Heritage Tours have evolved from primarily 'Silent Retreats' and 'Place Based Heritage Education' in the home, I designed a systematic 'heritage map' of the rooms:
1)      The kitchen for the gathering of all as they enter through the back door, purses are laid down, refreshments post-tour and around the big table the stories commence!
2)      Living Room ~ The French Basque Monlezun/Peterson/Miller/Broussard paternal lineage story of all items held within her walls!
3)      The Girl's Room ~ The German Hensgens/Tellers/Reiners/Knoben maternal lineage with an equal amount of items!!
4)      Upstairs ~ where my parents resided upon marriage in 1941 for they could rent the downstairs for $15 a month!
5)      The attic built in1904 ~ the children are gently invited in, and then I turn off the light telling them of the hobo who lived here years ago!!! One little one asked, "What is a hobo?!" Thus, their favorite room on the Tour!!
6)      The Front Porch Room ~ Accoutrements of my fathers' ten businesses, a musical vignette and memorabilia of Louisiana, Lake Arthur in particular!
7)      The Original Bedroom ~ First photographs, first 'devotionals' of their Roman Catholic faith surrounding the baby bed where their ten children slept safe and sound…sweet, sweet things!
8)      The next room displays vintage clothing for babies and mother!  
9)      The Back Room ~ Photos of their children numbering three generations, to date! Also the vintage collection of Catholic school training from seminary, elementary, high school and beyond!
1)      The First Heritage Tour February 10, 2009! (17)
'German Heritage Museum Board, Staff and Volunteers of Roberts Cove, LA.
These lovely ladies presented for Arthur Avenue the wonderful gift I am clutching. It is from the German Heritage Museum gift shop and is a
bronze holy water font with two angels in adoration on each side of the cross. It has delightfully joined the home altar area in this kitchen resting just below Mom and Dad's marriage license of 1941. As Mom would say, "These are all my people!"
They are now embraced as mine as well; we've inherited each other!
2)      'St. Michael Parish Rosary Group', Crowley, LA  March 31, 2009 (12) 
Our heads are bowed in prayer as Cecil Zaunbrecher (the lady in pink on the right) is leading a decade of the rosary in German by special request; we answered in English!
The lady to my right, as I back row far right, in black is a 'Carter' cousin of the Aspazie Miller-Broussard side from The Ridge' in Cameron Parish residing in Crowley!  
She greeted me at the back door saying, "Hello cousin!"  How wonderful!!
These ladies heard from their Roberts Cove friends of this day and requested a tour as well then proceeded to Nott's Corner for lunch!! They are all friends of old!
As you read the following letter they are also capable of magnificent feats of caring…to be forever changed…
---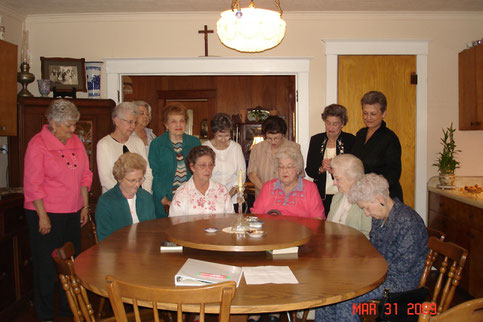 1 April 2009
Dear, dear Mr. Bercier,
Your dear wife, Ms. Sarah, was in my ancestral home of origin yesterday with her friends from the Crowley Rosary Group for an 'Arthur Avenue Heritage Tour'! It was one of the highlights of my year!
While on the Heritage Tour and in the 'Back Room' where the photographs of the ten children of Lee Joseph and Anna Gertrude Hensgens-Monlezun are hung she shared the tender story. You worked for Cooper Tires and were making a sales call with my father in his office at The Sportsman Center in Lake Arthur, LA.  She told of you driving upon the unfolding tragic scene of the drowning of my brother and sister Alvin Joseph, age 10 and Veronica Gertrude, age 6 which was happening behind the office at the new canal dock that had just been dredged; 14 feet of water. It was for the shrimp boats to dock and be serviced. It had just been named 'Monlezun's Landing' for my father who had the fuel and butane business in the area. This was Tuesday 27 May 1965. You entered the water to try to find them. That was 44 years ago; I was 17 years of age now 61 sharing our home of origin with all that find their way there and your wife is now one of them telling your story all these years later!
I thank you from the bottom of my grateful heart for your attempt to find and save them. Ms. Sarah said that you arrived home in your wet clothes; I can understand your grief, tremendous pain and shock. I am so grateful that you were there whatever the Good God's reason. I believe that the day you arrive in heaven, Alvin and Veronica will be among the grateful greeters embracing and thanking you that you were among God's own unfathomable design to be there, in that place, at that time and, in an instant you will understand. We all will. It is indeed a mystery for now but I count you among one of the major blessings of that dark day. Thank you for all you do for others…all will be well…and I bless you today.
You are now part of our story printed in this book "God's Gifts! A Collection of Short Stories from the Heart of Cajun Country" sent as gift to you and Ms. Sarah in this glorious season of Easter 2009! …His unfathomable timing and design but, O, the comfort of our faith which is secure in Him.
In profound gratitude, dear Sir!  
Lead, Kindly Light!
Anna 'Bernadette' Monlezun-Pontón,
Eldest daughter, fourth child of ten/six boys and four girls.
None of the ladies on Tour knew of this incident hearing it for the first time although they remembered the drowning. You could have heard a pin drop in that room.We were moved and awed by The Father's timing!
3)     'St. Leo IV Parish Sodality' Roberts Cove, LA   July 18, 2009  (11)
My maternal grandfather, Joseph and the paternal grandmother, Katharina of the lovely lady seated in front of me, Charlene Olinger-Reynolds, is brother and sister!!
She, her daughter, Sarah, back row fourth from left and I are members of the
Germanfest Folk Singers of Roberts Cove, LA; Charlene is the Director of this Sodality.
The faith and voices of our ancestors do not fall far from the ancestral tree!
While attending Corpus Christi Sunday in the Cove choir loft 2009 these precious girls processed in with their capes (Officers are in white!), veils and vintage banners. I knew at that moment that I wanted to invite them to this table; I presented a talk after the Tour entitled "Why Heritage and Faith Matter!" (I was a member of the Sodality in my young life and held the office of Treasurer…dues were fifteen cents!!)
My niece Suzanne Louise proudly stands (far left) as we encircled this wonderful group in her PawPaw and MawMaws' ancestral home!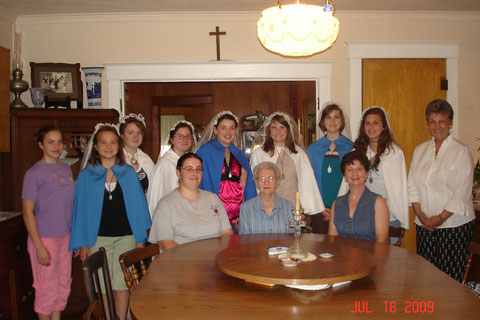 4)  5 September 2009 (10)  My nephews Dominique Joseph Jr. (seated far right) and Christian Joseph (seated middle) invited to Arthur Avenue for a Silent Retreat Day the young adults affiliated with 'Students for Life' on university campuses throughout the state of Louisiana! What a meaningful day; what a committed, impressive and faith-filled group of young people. They loved the home filled with Gregorian Chant! Fr. Clyde Thomas recognized them by having them stand for warm applause from the congregation at the vigil Mass on that Saturday afternoon!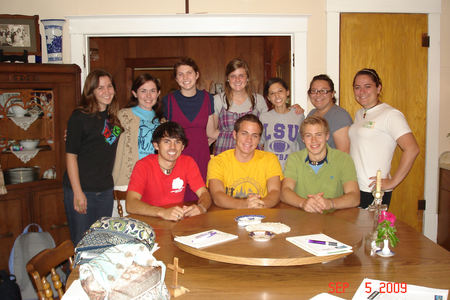 5)  October 30, 2009 Karl (white shirt) and Agi Hensgens (white jacket) of Germany with cousins Wayne (the tall one!) and Debbie Hensgens (in front of the tall one!) of Crowley, LA
were invited for an "Arthur Avenue Heritage Tour" welcomed by my brother Dominique (red jacket) and his daughter Suzanne Louise (Crusader!)! (7) Karl is our "Germany Cousin" who visits his 'Roberts Cove relatives' often! He is a retired engineer and she a retired teacher loved visiting the 'Hensgens Room' seeing on the wall our familial connection in sequential order from Germany to The Cove!! His great-great grandfather and my great-great-grandfather were brothers! These cousins were simply amazed by the Home and a delightful conversation ensued after the Tour.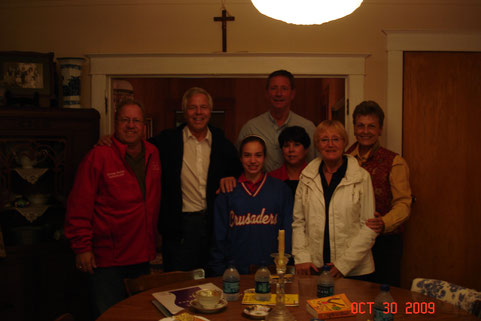 My sister, Constance Victoria, joined us later! What a wonderful day!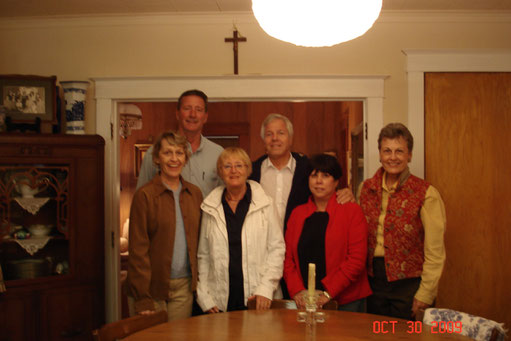 6)  "The Casper Berken Girls!" (13) 
19 February 2010 found the sisters, spouses and Berken cousins availing themselves of an 'Arthur Avenue Heritage Tour' with dessert and coffee as part of their monthly Birthday celebration! They came straight from Frey's restaurant in Jennings!
I am holding on to Josie Berken-Thevis, co-curator with Dot Leger of the Roberts Cove German Heritage Museum. I am always honored to have them in my ancestral home as they take it all in and share some of the history of photos, people and paper with me! I respect them greatly!
My maternal Aunt Barbara 'Leona' Hensgens-Berken-Smaihall was present and my sister Constance and I were happy to pose for a photo with her in front of the St. Maria Goretti Catholic School Special Collection. Wonderful! What goes around comes around Mom always said!!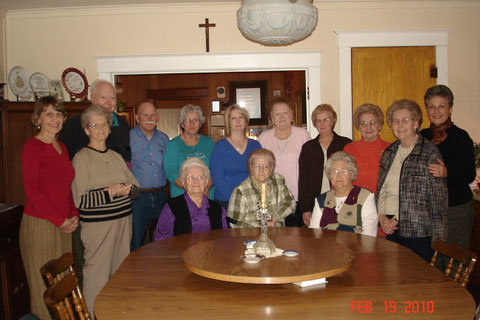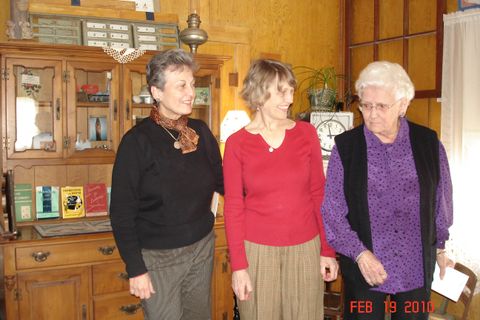 7) McNeese State University Archivists    March 12, 2010 ~
To Gather! Preserve! Make Relevant! Sustain a "Special Collection!" (3)
I had always wanted the Archivist from McNeese State University Library to visit my ancestral home and she accepted the invitation. Kathy Bordelon (far right) journeyed here with her sweet husband and friend, Nancy Khoury, (third from left) who is the former Librarian for MSU. Renee Reina, my Co-Worker (far left) and I were really ready for this visit; O, the cleaning and ordering that went on! Kathy didn't miss a thing and her questions were delightful! She queried me as to what, when, how, why and whom…this was the test and I knew it for I am keyed in to preserving this 'Special Collection' that this ancestral home Collection holds in sacred trust, by my two brothers who Co-own and their Caretaker, for no more of it is being made! The memories, artifacts, memorabilia, etc. are in tact and preserved; now keeping it safe and secure for sharing the ancestral tracking is paramount for all who find their way to her back door through Silent Retreats, Heritage Tours and Placed Based Education for the children. We passed her criteria for safe guarding all! The Big Three Mandates! A)The laced drapes throughout the home is not a problem with glare for the Collection; there are three layers of lace per window!! B) Key is circulating air! C) No originals on the wall allowed!!Thank you, God and dear Kathy! Oh! She chose the 'Blue Nook' for this pic!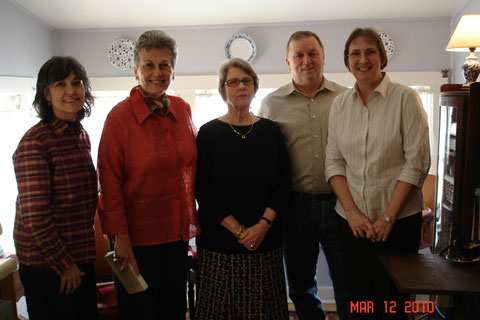 8) The Altar Society with Spouses, Christ the King Parish,
 Lake Charles, LA,                              12 May 2010! (14)
Rita Berken-Hoffpauier is the sister of Josie Berken-Thevis of Roberts Cove and had visited the home on 'The Berken Girls Tour Day!' She shared then that members of the Altar Society of her parish might want to tour and here they are. Rita was concerned about numbers; no need for 15 lovely people (to include a couple from Nova Scotia!) enjoyed the Heritage Tour, asking wonderful and meaningful questions as many knew Mom and Dad. My only request was that a decade of the rosary be prayed in French and it was done! How perfect to hear French in my ancestral home once again for my father spoke French with his mother every day of his life.  
They presented beautiful gifts for the Home and departed with smiles for a grand lunch at Nott's Corner! I told them to be sure and tank up at Tiger Mart!  O, Blessed Day!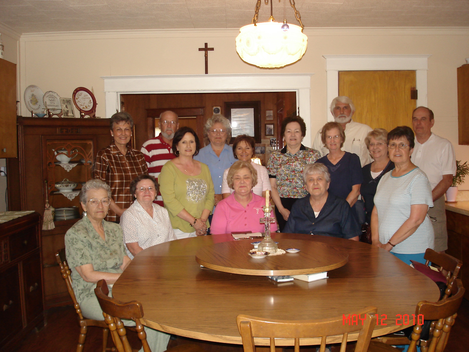 9) Arthur Avenue Heritage Tour and Lunch!   26 May 2010
Visitors from Ferdinand and Jasper, Indiana! (6)
Bill and 'Norma Olinger-Steinhart' (Olinger pioneer family descendant of Roberts Cove, LA), Jasper, IN,  Sr. Dominic Frederick, Order of St. Benedict (OSB), Archivist, Sisters of St. Benedict, Ferdinand, IN and Sr, Mary Philip Berger, OSB Director of English as a Second Language (ESL), Brescia University as well as Sr. Mildred Leonards, Congregation of Divine Providence (CDP) and Cousin Clarice Dischler of Lafayette, LA. We were all together in Indiana November 2009 and this day together again! Wonderful, wonderful people!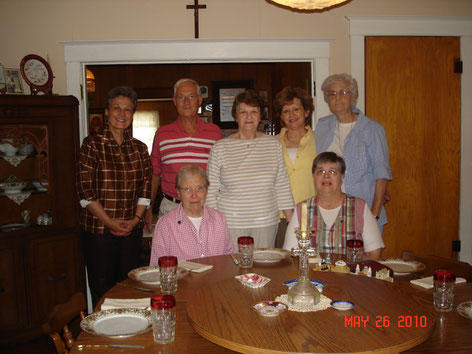 1)     Genealogy Staff of the SWLA Genealogy and Historical Library, Lake Charles, LA!
14 September 2010 (5)
Again, these are wonderful ladies whose heart, passion and knowledge are extensive in the field of genealogy and historical research. I was honored to host them with a 'teach-me-more' session after the Tour! They then headed north one mile to "Nott's Corner" for a wonderful lunch…we later arrived and gifted them at table with requested fresh file in little sprinkle jars from dear Mrs. Labouve!!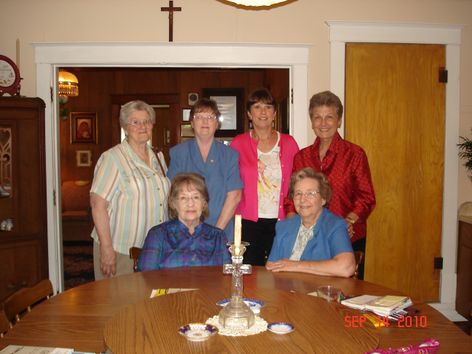 Calcasieu Parish Public Library
Administrative Offices, Lake Charles, LA
Dear Bernadette and Renee,                                                       15 September 2010
   We have always known that there was a hidden pride in tracing one's own ancestors. It makes all history more interesting when we have that personal connection of our own name as a soldier or pioneer or any other information that we discover.
   You have so well qualified the importance of heritage by the many mementos that you have collected and preserved of your family.
   We thoroughly enjoyed our visit with you and the tour of your historical home. It will always be included in talks about the importance of family, the many things we have inherited from them that we claim as ours, but in reality we learned as children in the family circle.
   Thank you for your hospitality.
                                                                                    Sincerely,
                                                                                    Shirley Burwell
                                                                                    And the genealogical staff. 
…how meaningfully and beautifully written and O, so true! Thank you, Dear Mrs. Burwell!
1)     The Catholic Daughters of America Juniorettes with Our Lady Queen of Heaven Parish, Lake Charles, LA   6 November 2010 (6)
 On a spectacular crisp Saturday morning. I asked  of this precious group what were they prepared to see in this home and a precious one answered, "a lot of religious things and Jesus'es!" Their answers and questions were priceless! After exhibiting the wonderful pecan picker which I admit is a very humble tool, a can with a long stick attached, further explaining that grandfather was a carpenter and pointing to the dynamite box and a piece of homemade-cigar-holder-rope-fuse dynamite (!) and a piece of real cypress as example of how he would blow cypress trees out of the swamp on his property to have milled in order to build homes, a sweet little one asked if we were poor! I replied "not really, there just weren't any Stine's or Lowe's around to get the job done!!" 
After the tour I said, "in that this home is 106 years old, almost as old as dirt, that we had prepared Dirt Cake as a dessert for them!" Lordy mercy did they ever enjoy that 'dirt'!
Pray they always remember that their heritage stretches all the way up to Our Father in heaven Who created us in His image and likeness, counted every hair on our heads and called us by name before we were formed in our mother's womb…that is the essence of the spirituality of heritage.
I was just thinking ~ maybe I should make poor little pecan pickers as favors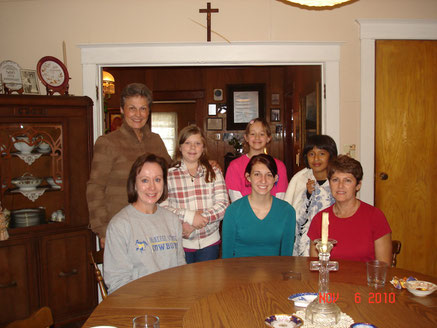 12)  St. Maria Goretti Catholic High School, Class of 1965 and Spouses!
Lake Arthur, LA                       27 November 2010 (8)
L to R seated ~ Cheryl Boudreaux-Guidry (Ronnie), Anna 'Bernadette' Monlezun-Ponton,
Joyce Marie Sonnier-Broussard
Standing L to R ~ Ronnie Ray Guidry, Robert Dale Kenvyn, Martin Wayne 'Gate' Richard,
Nelson Paul Broussard, Joseph 'Herman' Monceaux, Michelle Hebert-Monceaux
There were only 20 in our graduating class; the more the years the sweeter the people with the sweet memories!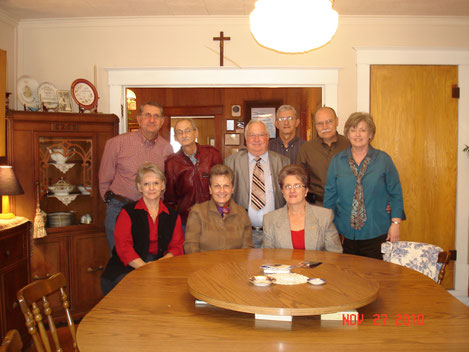 13) "Roberts Cove, LA Volunteers for Family and Community Service"
13 December 2010  (15)
This group was organized by Mom's cousin from the Reiner's side of the family ~  Antonia Thevis-Hoffpauier along with her lovely daughters on each side of her!
She was so happy to be in this special home again as in the prayer she lead…"and to remember the dear children who drowned from this family, Gert and Lee and all their children, and the Hensgens and Reiners families"… as she and her husband use to stop by many a time on their way to their Morgan Shores camp. Veronica Gertrude, she said while pointing to the chair in the living room, would climb up on his knee; he was so enthralled with her and she was special to him! Twelve of the fifteen ladies knew Mom and Dad and were delighted to take the Arthur Avenue Heritage Tour as their memories are long!!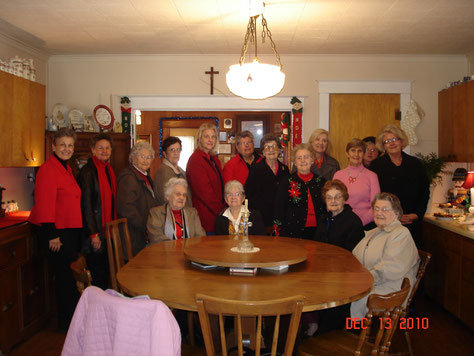 14)  19 January 2011 (4)
Paternal Cousins ~ Seated l to r: Suzanne Van Dijl is the daughter of Aunt Lucille Broussard-Deannery, sister of my paternal grandmother Victoria Broussard-Monlezun; Suzanne resides in The Hague, Holland, her friend Peter Daniell, and Anne Fautt of Lake Arthur, daughter of Theogene Broussard, brother of the Broussard girls! Back row: Elisabeth is the daughter of Suzanne and also resides in Holland.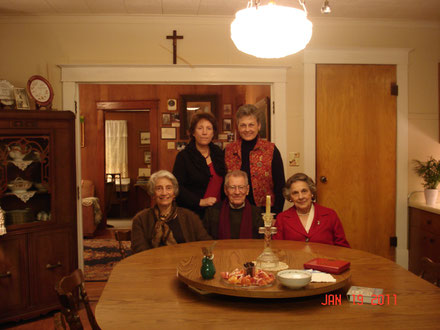 15) Genealogical and Historical Society, Lafayette, LA   February 23, 2011 (4)
I was invited to present my "Family Heritage PowerPoint Sequence" to this esteemed group and did 21 October 2010. In turn, they were invited for the 'Arthur Avenue Heritage Tour' and did! What great questions and comments from these dear and interesting people!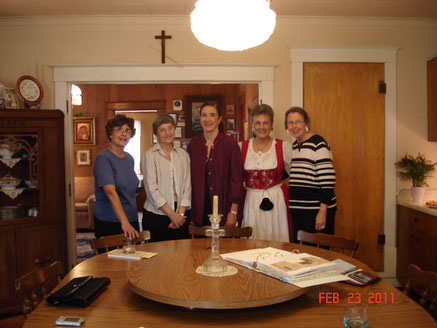 16) & 17) Our Lady Queen of Heaven Altar Society   April 11, 2011 (16)
'Arthur Avenue Heritage Tour' x two; morning and afternoon! Delightful ladies who loved the fact that I am one of a long line of Altar Society women on my German side and pointed to the medals to prove it!!!  Ladies of the Altar include:
Una Couvillion, Timmie Pierce, Helen Fontenot, Opal Jeansonne, Cheryl Fuselier, Ruby O'Brien, Mable Thibodeaux, Thelma Soileau, Catherine Foret, Lois Couvillion, Mary Alice Hurst, Margaret Zimmerman, Bell Thomas, Genevieve Guzzino, Eva Beaugh and Mary Jo Canik! I wore Basque!!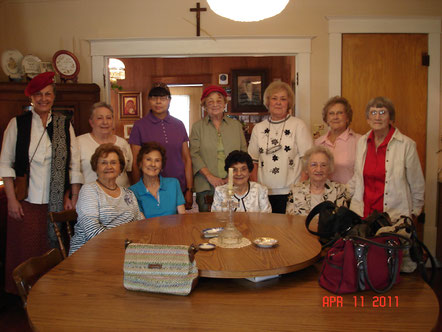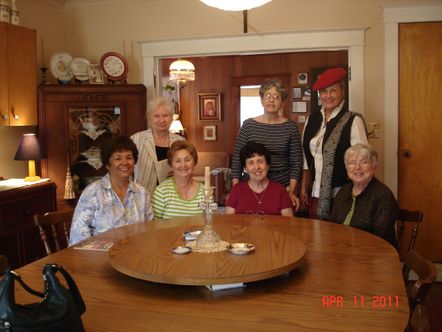 18)   Children and Adults of Our Lady Queen of Heaven Parish Family Choir,
Lake Charles, LA  28 May 2011 (16)
are interested in participating in the National Migration Week Celebration of our church parish's cultural diversity liturgy January of each year. My sister Constance Victoria and I don our German native apparel and cantor a German song for communion meditation hence the interest is peaked among the children. Now is the time to show and tell, instill and plan that which they will do prior to January 2012 for study of their families' land of origin and the making of their very own native apparel!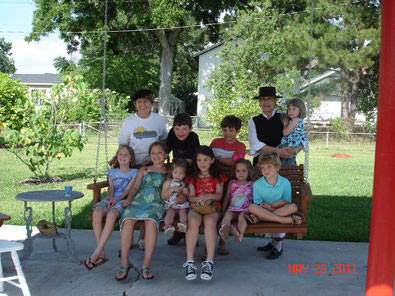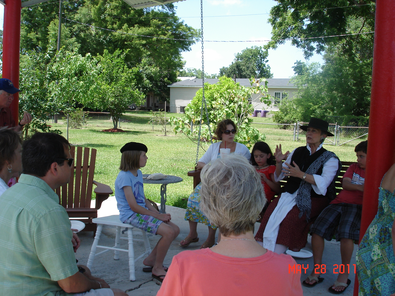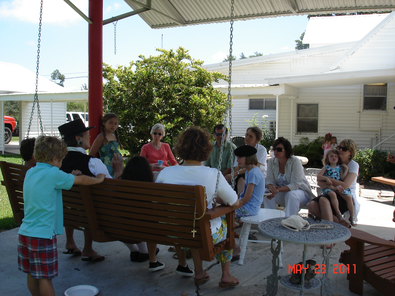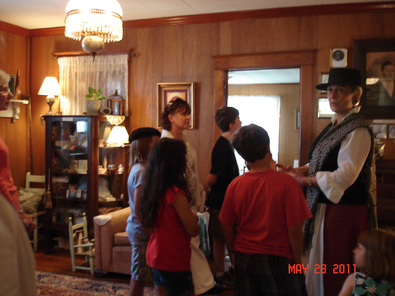 19)  John William, Fay Fruge-Gossen, parents and family members were feted to an 'Arthur Avenue Heritage Tour'  24 September 2011 (8)
It was my distinct and humble honor to have them in my ancestral home of origin especially 'The German Room' where John William, my second cousin, saw a few of his high school photos standing straight and tall receiving the American Legion Award!!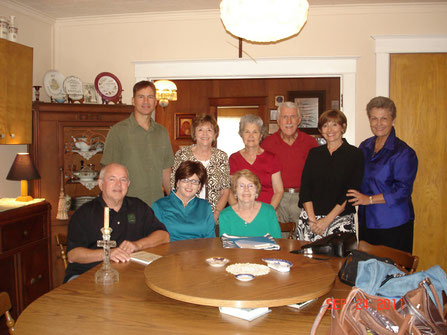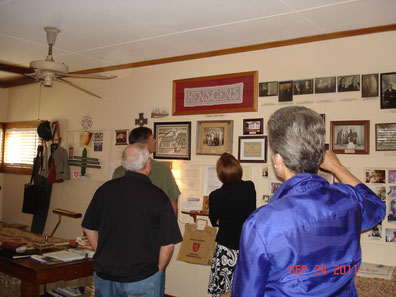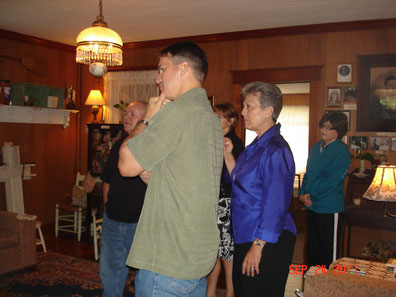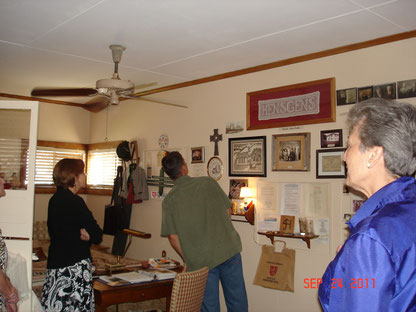 20)   Cousins from Germany, Roberts Cove, LA, Lake Charles, LA & Lake Arthur, LA!
4 October 2011  (5)
Maria Theresia 'Resi' Knoben, M.D. resides in Germany and attended her first Germanfest 2011 in Roberts Cove, LA amid her paternal relatives whom she has never met! She was hosted by Lawrence and Mary Magdalene Reiners-Cramer also cousins … this is how…!
A)  1st Generation Johann Knoben, 1716-1776, d. age 60
2nd Arnold Knoben, 1746-1796 d. age 50
3rd Johann Heinrich Knoben, 1776-1835 d. age 59
4th Lambert 'Arnold' Knoben, 1811-1904 d. age 93
5th Maria 'Veronika' Knoben-Reiners, 1847-1928, d. age 81 fifth of seven children, fourth of four daughters and sister to Anton Josef Knoben
 6th Anna 'Gertrude' Reiners-Hensgens, 1885-1969, d. age 84
7th Anna 'Gertrude' Hensgens-Monlezun, 1921-2000 d. age 78
8th Anna 'Bernadette' Monlezun-Pontón, 1947 age 63, October 2011
B)  1st Generation Johann Knoben, 1716-1776, d. age 60
2nd Arnold Knoben, 1746-1796 d. age 50
3rd Johann Heinrich Knoben, 1776-1835 d. age 5
4th Lambert 'Arnold' Knoben, 1811-1904 d. age 93
5th Anton Josef Knoben, 1853-1909, d. age 56
Brother to Maria 'Veronika' Knoben-Reiners
6th Arnold Josef Knoben, 1899-1958, d. age 59
7th Leonhard Knoben, 1930 age 81 October 2011
8th Maria Theresia 'Resi' Knoben, 1964 age 47, October 2011
C)   1st Generation Johann Knoben, 1716-1776, d. age 60
2nd Arnold Knoben, 1746-1796 d. age 50
3rd Johann Heinrich Knoben, 1776-1835 d. age 59
4th Lambert 'Arnold' Knoben, 1811-1904 d. age 93
5th Maria 'Veronika' Knoben-Reiners, 1847-1928, d. age 81 fifth seven children, fourth of four daughters. Sister to Anton Josef Knoben
6th Peter Joseph Reiners, 1874-1936, d. age 62
7th John 'Herman' Reiners, Sr., 1915-1991
8th Mary Magdalene Reiners-Cramer, 1944 age 67, October 2011
It was the most special of days and will be forever remembered! Resi 's photo taken at the gravesites of Franz Anton and Maria 'Veronika' Knoben-Reiners in Roberts Cove is now on the Reiners/Knoben Family Wall on Arthur Avenue! She tenderly said, "I have never felt more important, special!" Thank you, ancestors, for our fond embrace as we toured and dined at table in your glow.  To complete the familial vignette, we were joined by Constance Victoria Monlezun Darbonne and Dominique Joseph Monlezun!  Notation! Resi has great-grandmother Veronika's eyes!!!!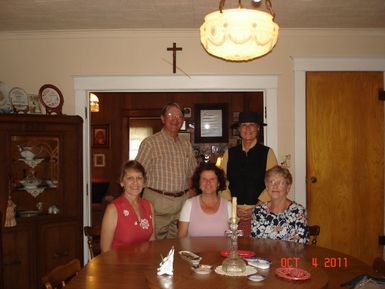 Seated l to r: Constance , Resi and Mary
Standing:  Lawrence and Bernadette in Basque French costume, my father's lineage.
Danke Cramers, one and all, for hosting Resi!
21)  The Genealogy and Historical Society of Lake Charles, LA  26 October 2011 (13)
Wonderful group whose interest in the home was a joy to witness!! Their comments, and inquiries were thoughtful and on the mark!!  As I had worn my German-wear for "A Family Heritage Sequence' PowerPoint presentation with this group Saturday 17 September 2011 at the Genealogical and Historical Library in Lake Charles, LA they were particularly delighted with the French Basque-wear and the Spanish hat as my husband is Spanish Basque!!!  Every lineage finds itself displayed somehow, somewhere!  Isn't it all wonderful?!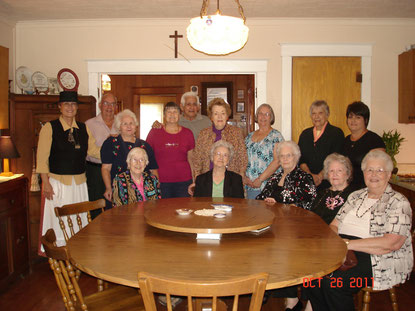 22.) Volunteers for Family & Community, Iota, LA and
the Jefferson Davis Parish Club Members!  14 December 2011 (13)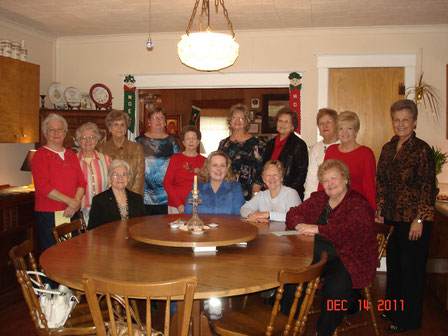 23) Aaron Matthew Tellers    4 February 2012 (1)
Aaron Matthews Tellers is my newest cousin to meet while on Arthur Avenue in the 'German Room!' He resides near Boston, MA and was able to track his German cousins while in South Louisiana as well as dine at the big table telling us of his family who are the 'Tellers Organ Company' descendants of Erie, PA! Renee and I will be visiting members of the Tellers family in Erie in the future and inputting information and data just in time for the Greater Hensgens Family Reunion just around the corner!!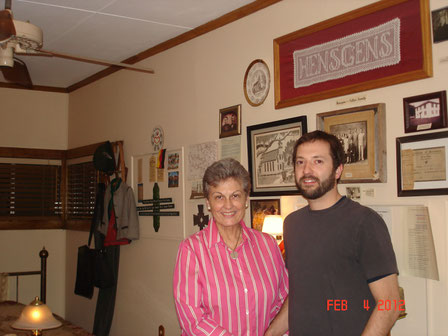 24) 'St. Leo 1X Parish Sodality' Roberts Cove, LA      04 February 2012  (9)
Just a week prior to this precious groups' arrival for a 'Heritage Tour' I came across, in the Arthur Avenue 'paper' dance, my mother's Sodality Diploma dated January 1941 and her Apostleship of Prayer membership document of the same year. She was 19 years of age and this was the year of her marriage! I placed the Sodality medal of my youth next to my mother's diploma in the 'Catholic School Special Collection' and then the young ladies arrived! Tis definitely The Father's timing! Wonderful!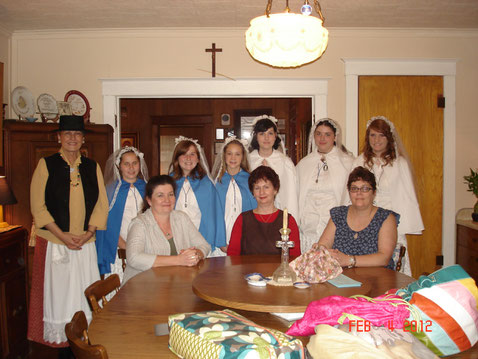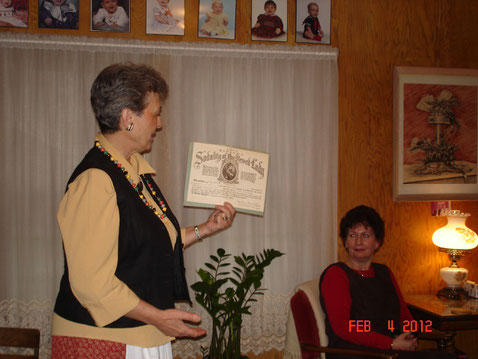 25) "Five Points of Light" ~ Coordinators for 'Germanfest Folk Singers' guided by Josie Berken-Thevis! 09 March 2012  (3)
Left to right:  Simone Dubois, Accordionist, Josie Berken Thevis, Coordinator, Anna Kormesser, Soloist as THE Yodeler, Bernadette, Director, Renee Reina, Detail Process Person!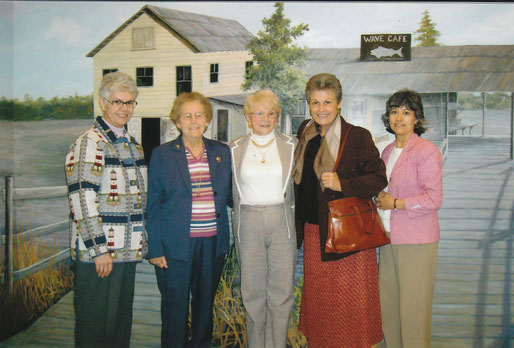 26) Our Lady Queen of Heaven Prayer Group    2 August 2012
Lake Charles, LA  (7)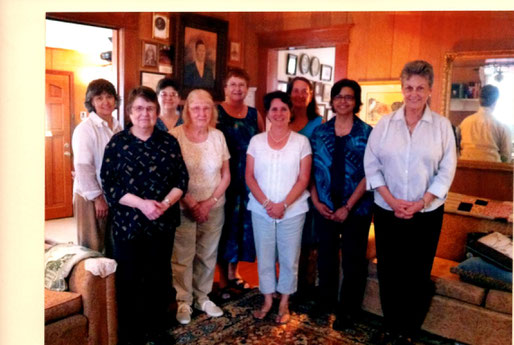 27) St. John Vianney Parish Choir, Bell City, LA     18 August 2012 (10)
A few times a year Renee and I attend First Friday Mass in Bell City on our way to Arthur Avenue. We are invited afterwards for coffee and biscuits in the Hall! What a fun group!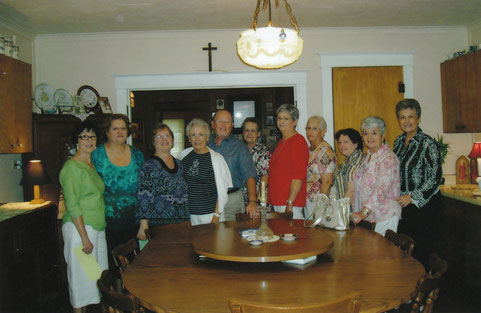 28)  23 June 2013 'The Schmid Sisters who are our cousins on the Monlezun-Broussard side! L to r:  Karen Ann Schmid-Maddock, Kathryn Beatrice Schmid-Comeaux, Esther  Marie Schmid-Liggio and 1st cousin Renee Aline Reina! They came for a 'Heritage Tour' after their 'Meaux Family Reunion' weekend!!! Bless their hearts!! (4)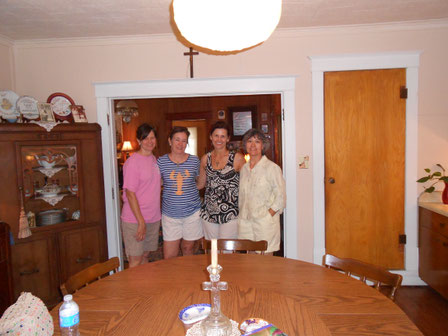 29)  27 June 2013 Descendants of Pascal Monlezun my paternal great-great uncle who resided in Rayne, LA having 5 daughters! (11)
How wonderful to have them in this home of origin as they rested in the Basque French Living Room hearing of the stories of their great-great uncle Dominique Joseph Monlezun and his descendants that hosted the first  'Monlezun Family Reunion' in 2005 where 236 people attended the festivity on these very grounds!!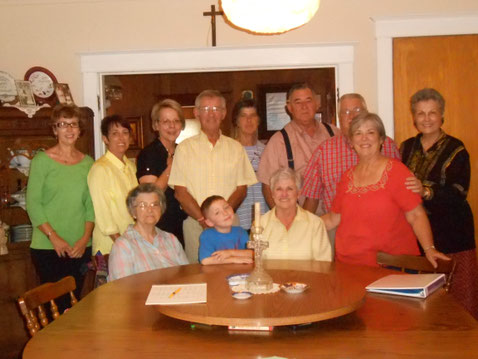 30)  Redemptorist Catholic Elementary School, Crowley, LA; Principal, Pastor, Faculty and Staff Spiritual Day and Heritage Tour!  13 August 2013  (23)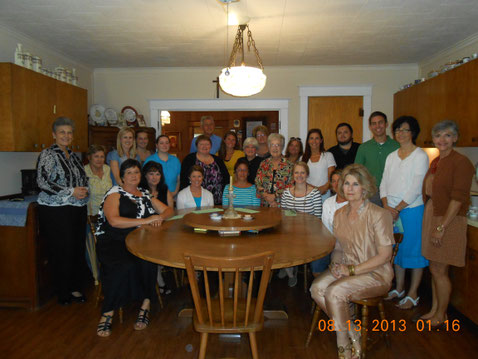 31)  18 October 2013 ~ The grandson of my Great Uncle Joachim Ezador Monlezun ~ cousin Michael and Gretha Jacobson-Monlezun of Palm Coast, FL. They were attending his Lake Arthur High School Homecoming and were swept through Arthur Avenue for a Heritage Tour. He sat in Daddy's chair at the big table sipping his LA coffee… they spoke so warmly and wonderfully about their love for Dad and Mom and that of the love of their son Michael, Jr. especially for Mom !!  (2)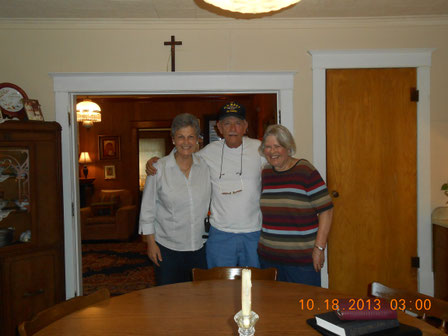 32)  5 July 2014  ~ Mrs. Paul Dudley (Rena) Faulk with daughters Sheron Faulk, Lake Charles, LA and Paula Faulk-Friedman and husband Terry of New York City. Good day! Great friends! Just look at the smiles on those sisters!! Beautiful!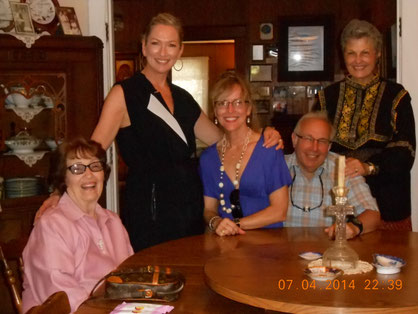 33) 8 August 2014 ~ St. Margaret Catholic School Principal, Faculty and Staff were in Lake Arthur for a Faculty Retreat! They began the day in church with Mass, the Rosary and a Spiritual Talk…then on to lunch on the water…then to an 'Arthur Avenue Heritage Tour'…then dessert and raspberry tea!! There were 28 present and these souls were caught just before they departed; all were so happy to discuss their heritage and what they planned to do that we forgot to take the 'big picture!' 
34)   31 August 2014 Bridal Shower and Heritage Tour in honor of Dominíque Layne Meyer, bride-elect of Joseph Wayne Darbonne, my nephew and godson!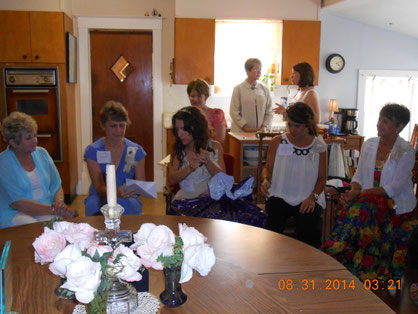 35)  22 October 2014 (2) ~ Mrs. Marilyn Flavin, neighbor and her daughter-in-law Lisa Flavin spent a lovely day on a slow ride to Lake Arthur and a visit with Dominique Joseph who had to give Ms. Flavin a big hug! The tour continued with a ride to his lovely home, the loveliest setting I think in L.A.., on to the Lake Arthur Health Clinic location then their first view of Arthur Avenue! There was silence in the vehicle! Around the park and lake we went visiting all the while and continuing conversation at The Regatta Restaurant for a delightful and delicious outdoor lunch on the veranda. Dessert and a Heritage Tour on Arthur Avenue rounded out the special day!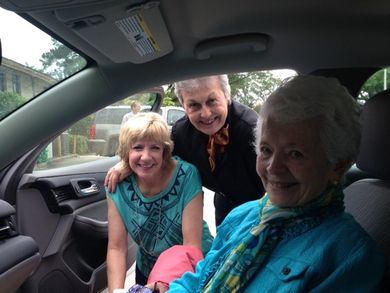 36)  5 February 2015 (21) ~ "Women's Library Club" of Lake Arthur, LA! My mother was a member of this wonderful group of ladies and loved attending the meetings and being involved in their civic and social outreach.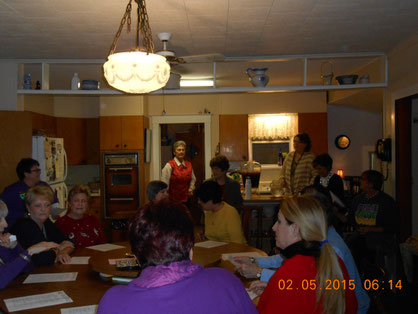 37)  21 February 2015 (30 girls and 9 boys!) ~ Bridal Shower and Heritage Tour in honor of Susan Marie Peters of New Orleans, bride-elect of my nephew, Dominique Joseph Monlezun, Jr.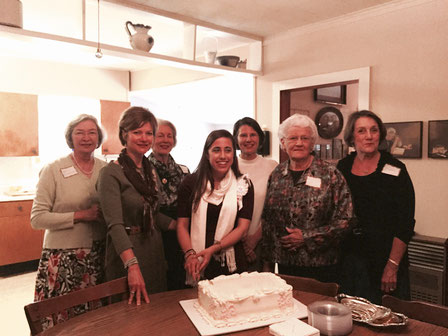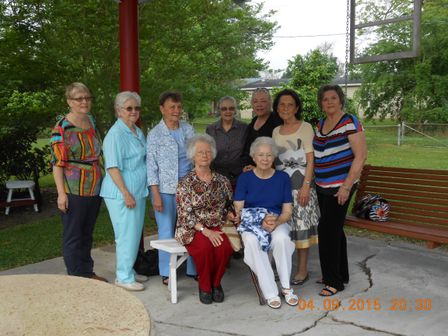 38) 10 April 2015 (10) ~ "Daughters of the America Revolution" (D.A.R.) of Lake Charles
This group has a heart for Heritage and Reverencing Those Who Have Gone Before! I was humbled to share Arthur Avenue with them. They also know how to document for a pic was taken outdoors before the Tour and the rain was on its way!!
39)  23 May 2015 (11) ~The wonderful and dedicated ladies with the 'Catholic Daughters of the Americas' and the kind men of Westlake, LA. I love my Catholic Daughters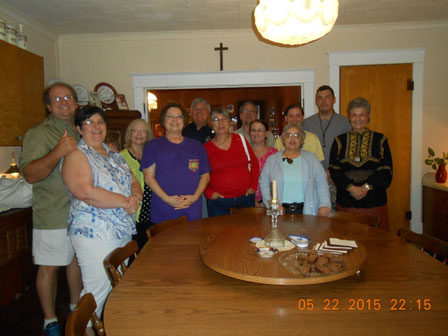 40) 26 June 2015 (11) ~ Kinder (LA) Garden Club by invitation of Leavon Ladner my friend-of-old! What a grand group of ladies that thoroughly enjoyed the history and rooms in the home! The Heritage Tour groups do and I am in awe that the word goes out and many still want to visit!!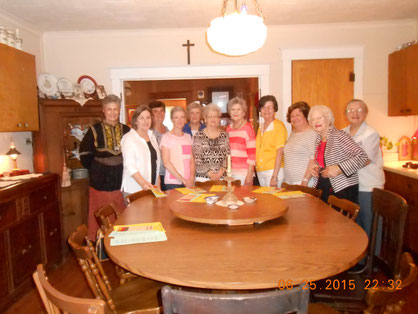 41)  01 August 2015 (10) ~ Pascal Monlezun descendants and Roberts Cove Catholic Daughters! The Basques and Germans are together again under the same roof! What a wonderful group as they knew each other from the Crowley and Rayne,  LA area…small world among kinfolk!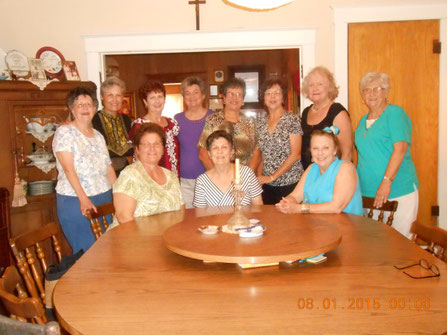 42)  30 October 2015 (7) ~ Southwest Louisiana Cattlewomen's Association! Wonderful ladies! Renee A. Reina hosted this group solo and did superb work; I was without voice. All were very grateful to RAR and together talked about their favorite story or artifact…all about learning and remembering. They could appreciate the captured moments in time in all those rooms!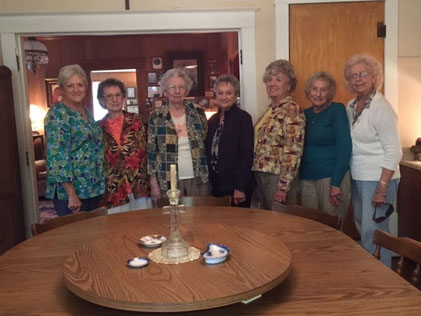 44) Residents and family members of The Veranda and Carriage House at Greywood, Lake Charles, LA (7)…part of the 'Heritage Study Series' presentations in this lovely facility.46)  
45) 02 May 2017 ~ Two friends of old from Washington, D.C. visiting kin and friends AND Arthur Avenue for an abbreviated Heritage Tour!
46) 07 June 2017   ~ Rita LeBleu!  Feature Writer, American Press, visited taking it all in as she was thinking and taking pictures throughout the home. What a full-page story she wrote – beautifully and gratefully done! She is our new friend and we will meet again in the near future on Arthur Avenue to speak to and reflect on The Spirituality and Work of Heritage ~ Reverencing Those Who Have Gone Before!'
47)  01 May 2017 ~ (8)Abbey Fletcher, a Masterworks Choral friend, arrives in a large van with classmates from Arkansas! They meet once a year and see the world! Post-heritage tour they were gathered up in little 4-wheel carriers for a driving tour of Lake Arthur's lakefront, park and main street! Their big day was summarized at The Regatta Seafood Restaurant gathering on the deck for a conversation as only friends of old can emit! Her thank you notes says it all!:
"Dear Bernadette, 
The Birthday Girls, all 80 this year, really enjoyed you and reliving your heritage home. The family history you shared was a true double feature. One part chronicled your parents delight in family while wrangling and teaching a passel of children. The other part revealed your generations' respect for their blueprint by investing so much love and industry to preserve and share it. Heritage, indeed. Thanks so much or sharing. Abbie and the rest of the Birthday Girls."
48) 05 May 2018 ~ (09) Court of St. Katherine Drexel Catholic Daughters, Creole, LA visit       the home especially 'The Living Room' where  the Broussard-Miller Family Wall connotes how most of us in that room are related!! Love this! They had enjoyed a Sunday lunch 'on the water' and Arthur Avenue served up dessert and Raspberry Tea for these are my people!
49) Arthur Avenue Heritage Tour! 14 May 2018 ~ (07) Heritage Tour for the 'Parish Extension Ladies' of Acadia Parish! Josie Thevis and Dot Leger of Roberts Cove, LA were in this group for they were members of my first Heritage Tour in 2009! Wonderful!
50)  01 June 2018 ~ Arthur Avenue Heritage Tour ~ (04) College friends of old and their guests!