---
"The Business and Domestic Collection" of
Lee Joseph and Anna 'Gertrude' Hensgens-Monlezun
 'The Back Room!'
This room constructed in 1945 by my grandfather, Antoine, was the original barracks/dormitory until the numbers increased and the 6 boys found their new ground upstairs (1949-50) and a brand new addition was built for the 4 girls complete with built-in closets! In the beginning were 3 cots for the 3 boys with my parent's bed between the south windows in this amazing room.
This is the room where after watching the last show of the evening which was Bishop Fulton Sheen swirling his silk cape (reruns on EWTN!), we would hit the floor on our knees for a decade of the rosary led by Mom and Dad! Then off to bed and lights out! The television with ears (!) has been retired except when a flat screen is brought in for the Mount Carmel Sisters visiting in this room which they called the 'Community' room!
Mom and Dad's chairs sit across from each other; the lamp was custom made as it is a re-fired meter from Gulf States. Mom would enforce lights out in rooms by uttering, "Turn those lights out! We don't work for Gulf States!" It was one of those many gifts that parents collect over time but this one is really used! This room opens up for the annual 'Sing-alongs' where tables are brought in and guests gather for punch and delicious food of which everyone contributes; it becomes the mess hall!! The seven musicians (guitars, fiddle, harmonicas, and percussion) set up in the kitchen and play hours of music from the heart and soul of this wonderful community called Lake Arthur!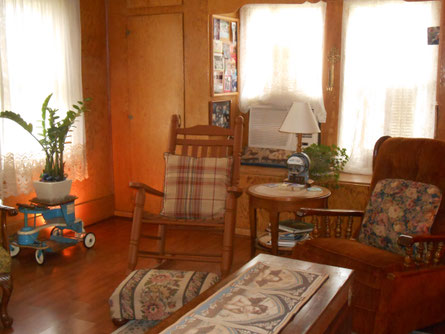 Note the little blue stroller which is one of my favorite pieces for I vividly remember taking my youngest sister and brother for a push and feeling all is right with the world…something about this carriage burns deeply within and puts a smile on my face as it does with others as they exclaim the exact same sentiment! Many recognize it as being the one they remember so well!! Ah, vintage!!!
Mom was so excited to have her built-in toy box and closets all those years ago and today they are perfect for holding a collection of lace drapes, table, bed, and bath linens labeled and accessible for guests. The toy box doors have new hinges and remain open whenever lifted so they do not squish your fingers or bend your neck like days long ago!! The very old and very used vacuum cleaner is still here in the closet resting after many years of use!
The extended family photos absolutely outgrew the refrigerator and are now spread over each side of the toy box, four children on each side all in their places with bright shining faces!!! And, many of the next generations…thank God for digital cameras!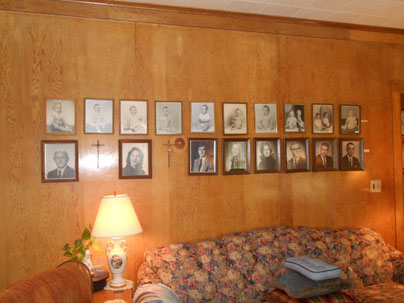 The wall behind the sofa holds photographs of the ten children of this home taken at ten months and twenty-one years of age. There are the two casket crosses for Alvin Joseph and Veronica Gertrude who drowned together May 27, 1965.
Mom and Dad were so proud when the last child's picture was framed and in place! So am I as there are many nails hammered in holding what is!! Daddy once waved his arms around the room and said, "Heck, fill up the whole darn room!" My, if that isn't happening!! You should see the expressions on the faces of all who step down into this wonderful room!!!
Mom and Dad's first chest, that was with them when their lives together began in this home, now serves as the sofa table. It was in the upstairs 'kitchen' now the library and today holds wonderful fabric and textiles for the change of seasons all the years long.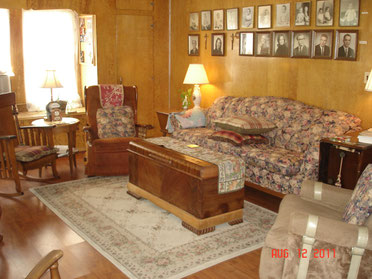 The wall of photos to the right are our children at ten months, all eighteen of them! I folded Mom's handkerchiefs and placed them on the photos of the five nieces. Mom closed in a door to the old kitchen which became the perfect space to display. The prominent black wall clock has been here since water was struck from rock; I can't find the key and so wish I could! I remember Mom winding this clock all the years long for it has a beautiful ticking sound and a slight ring on the hour.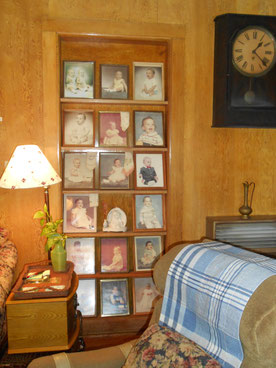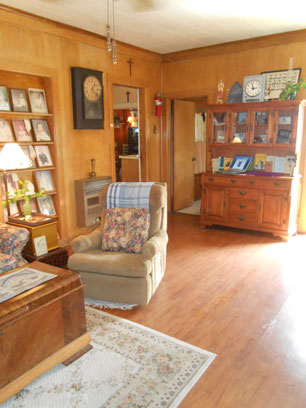 The turntable/CD/radio arrived Christmas 2007 as gift from Cousin Renee for our continual enjoyment! The vintage record collection is in the hutch and once again can be enjoyed for those ole time feelings and happy-feet-moves! (Otis Redding and I take down Christmas decorations every year!!) The 3 vintage suitcases which serve as an end table contain sympathy cards upon the death of the children in 1965, Daddy in 1985 as well as Get Well cards after Mom's diagnosis and subsequent death in 2000.
The vintage table belonged to my maternal grandmother and held the television and a duck lamp with a very bright bulb! Front and center is a painting depicting a very special event…their tenth child was born in 1960 and Daddy wanted to do something special for Mom. He thought of and had executed a painting which consists of 10 little orchids, a diamond ring and a special rosary!  The diamond ring was promised to Mom when their first child was born. "If you give me nine more like this, he said, I'll give you a diamond ring!" She says that she forgot about the offer but lo and behold it happened! Ten little purple orchids representing ten children surround the base of the purpled-ribboned-arrangement with the depicted diamond ring for Mom and the larger orchid for Daddy!  That same year Mom was presented the her first Catholic Daughters of America 'Mother of the Year' award. The glorious mother-of-pearl rosary was presented as a prestigious and extra special award and it forms the foundation of the painting. She couldn't believe her eyes when Daddy along with their nine children in tow proudly presented this gift in her room holding her tenth little bundle of joy at Jennings American Legion Hospital 20 September 1960! And, that tenth child, Dominique Joseph and first born child, Lee Joseph Jr., are co-owners of this home!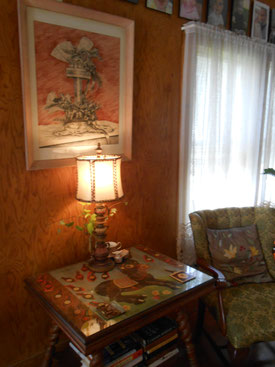 What can I say?! Pin-the-Tail-On-the-Donkey game that we played as children was unearthed! My sister Constance Victoria insisted it be hung; I really wanted to fulfill her wish so that she could play again as she is a grandmother you know but, alas, this treasure is as old as our eldest brother; I had to be creative so that all could win! Isn't this the sweetest table top that you have ever seen?! Cousin Anne Fautt walked in while the glass was being lowered and she smiled the biggest smile of pure delight; we sat on each side of the table for a visit for all is well in heritage land!!
On the south wall are our children's children with more on the way!!  After all, this was the first dormitory where the children slept all snug in their beds after playing and praying…and studying to this very day and time!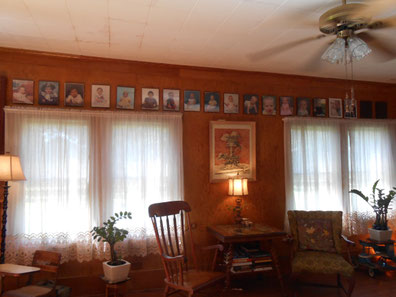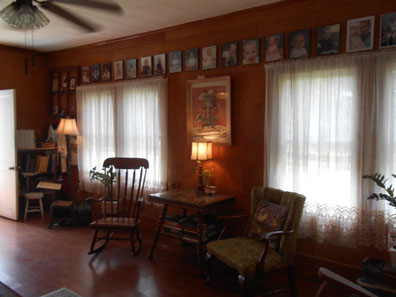 Five brothers were altar boys and aren't these cassocks wonderful!? The youngest brother faithfully played his guitar for many Masses for many years under the direction of Sr. Yvonne Lerner, OSB; he makes incredible music on fabulous guitar from his beautiful collection to this very day!
The center photo is of the five altar boys standing straight and tall; Mom and Dad were so proud of this photo! I starched and ironed these red and black sacramentals to a crisp (!) once upon a time. There is clear tape along the bottom hems as they started small and, as they grew adjustments were made, quickly!  The Seminary Prayer plaque above the cassocks was in my parents' bedroom for years. 
We all climbed into the car for visiting Sunday once a month for nine years hence we know many former seminarians and priests from the Dioceses of Lafayette and Lake Charles! Tis a small Catholic world after all!
A treasure indeed is Alvin Joseph's book satchel brought in on his last day of school, the day he drowned May 26, 1965; it is left as was. Original books of the era are on this book
shelf to include a set of The World Book Encyclopedia in eighteen volumes and the first set of books I remember as a young child…the three white volume set of the "Catholic Book of Knowledge" the most beautiful books in the world! Also, a picture book "Catholic Child's Book of The Mass" 1958 and a set of wonderful prayer books 1927 forward!
Many books then and now have been moved to the Upstairs Library … Bibles, Catholic Dictionary, Commentaries, Catholic Household Blessings and Prayers, Lives of the Saints, Catechism of the Catholic Church, Catholicism on the Web and reference material galore all for living our lives today on our way, as always, to heaven with those who have gone before!!!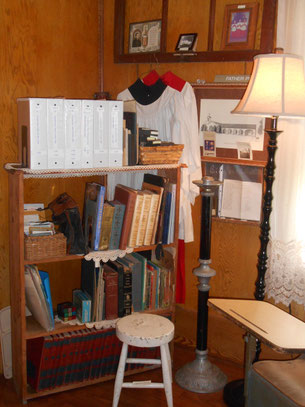 A small plague penning a beautiful prayer has hung in my parents' bedroom all the years long and now has joined this Special Collection ~ St. John Berchman, Patron of Altar Boys
TO AN ALTAR BOY
To be Christ's page at the altar, to server Him freely there,
Where even the angels falter, bowed low in reverent prayer.
To touch the throne most holy, to hand the gifts for the feast,
To see Him meekly, lowly, descend at the word of the priest.
To hear man's poor petition, to sound the silver bell,
When He in sweet submission, comes down with us to dwell.
No grander mission surely could saints or men enjoy,
No heart should love more purely, than yours, my altar boy.
God bless you, lad, forever, and keep you in his care,
And guard you that you never, belie the robes you wear.
For white bespeaks untainted a heart both tried and true;
And red tells love the sainted and holy martyrs knew.
Throughout life, then, endeavor God's grace to employ;
And be in heart forever a holy altar boy.
 "The Immaculata Seminary and St. Maria Goretti Catholic School Special Collections" has been merged into this compact space. These treasures are labeled for taking it all in!
The three older boys attended the Seminary in Lafayette, LA upon reaching the age of 14 as is the age I left for the Aspirancy in Castroville, TX with the Congregation of Divine Providence. One brother returned to this home for a short time while the other two never did in continuance of their education; now the eldest is a co-owner of this precious place! You just never know! Here are gathered nine years of letters from the boys which Daddy had self-addressed on his envelopes and stamps! What historical writings as to where they and we were in life and time!
The six white binders:
Immaculata Seminary Letters
Harvary University Letters
Notre Dame Seminary  Letters
Lee Joseph Monlezun, Jr.
Robert Joseph Monlezun
Charles Joseph Monlezun
Binder 1
  06 September 1958---23 May 1959
            Lee J. (Age 15) 54 Letters
Binder 2
03 September 1959---21 May 1960 
            Lee J. 49 Letters (Age 16)
            Robert 37 Letters (Age 15)
Binder 3
04 September 1960---25 May 1961 
            Lee J.   54 Letters (Age 17)
            Robert 12 Letters -through 21 Oct 1960- (Age 16)
            Charles 54 Letters (Age 14)
Binder 4
06 September 1961---21 May 1962
            Charles 66 Letters (Age 15)
25 June 1962---08 August 1962 
            Lee J. 16 Letters-Harvard University (Age 19)
Binder 5
06 September 1962---06 July 1963
            Charles 37 Letters (Age 16)
Binder 6
09 September 1963-24 Oct 1964
            Charles 66 Letters (Age 17)
1966 Notre Dame Seminary New Orleans, LA
            Charles 1 Letter (age 20)
1967 Notre Dame Seminary New Orleans, LA
            Charles 1 Letter (Age 21)
The hutch holds accoutrements of our Goretti days where six of the ten children attended elementary and high school. Front and center proudly stands the Time Clock from the principals office; I set it at my favorite time of the school day, high school not elementary!
To the left is a slab of blackboard which reads in chalk, "1956 2nd Grade Classroom St. Maria Goretti Elementary" from Constance Victoria, that third grader who rescued this little piece of treasure July 2009 age 58!
A well- loved statue of Saint Maria Goretti stands tall in this collage.  Constance Victoria was gracious to share the grand picture of her graduating class 1968. My high school basketball jacket hangs to the left of the hutch and is happy across the room from the black and white saddle oxfords under a child's school desk!! The jacket was packed with me 24 times in my life's moves and is now back where its journey began; especially timely in that June 2009 I had my first 'Granny Basketball' practice after 45 years of not setting a foot on the court!!!
The beautiful chalice covers are gifts from dear Fr. Donald Pelous upon his retiring from active priesthood 2012. There is the color for each liturgical season and they are simply exquisite.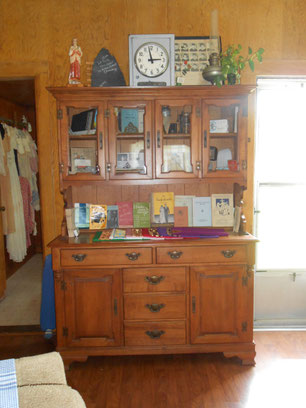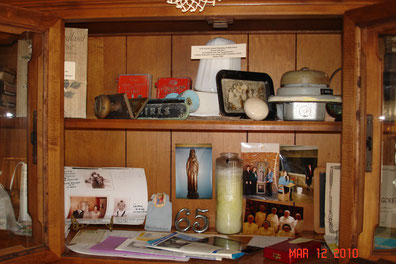 The 'St. Maria Goretti Catholic School Binder' is a wonderful list of the names and years of the Olivetan Benedictine Sisters who served Goretti school from 1955 to 1977 filled with photos, letters, school newsletter and more and more!  In 2008 from Holy Angels Convent in Jonesboro, AR, Sr. Louise Frankenberger, OSB, age 91 one of the Olivetan Benedictines of Goretti fame, at my fervent request, did the handwork on eight napkins! One is here for marveling in appreciation not to mention awe!! Another is in the 'Goretti School' Archival Collection at McNeese State University library! This one is folded in a little organza pouch along with the photograph of all the Goretti Sisters at the celebrative time of my Benedictine Oblation November 2007!  Much is here for all to enjoy and know never to forget 'when one drinks from the source, do not forget the spring!' Dear Sister Louise died in early Spring 2009/R.I.P dear one.
Date:      16 February 2008
To:         Bernadette Monlezun-Pontón  Enjoy!!
From:    Sr. Mary John Seyler  OSB I have assembled the names and years – as best I could…
RE:         Sisters Who Were Assigned to Minister at Goretti Elementary and High School
               in Lake Arthur, LA 1955 – 1977. Notations from Sr. Seyler which are in my document…
      1955           Sister Frances Hofbauer – to 1956
                        S Martina Bolds – 56
                        S Madonna Gahr – 56
1956                  S Remigia Dietsche – 58
S Evangelista Myers – 59
S Rose Lynch Wilkinson – 57, 59-60, 68-71 (Maura Wilkinson)
S Richard Hess Buergler – 57
1957                  S Imelda Pels – 60, 65-66
                  S Florentine Tempel – 59
                  S Jean Marie Boeckman – 58, 63-64
                  S Carlene Knauf Church – 60-63, 67-70
                  S Carini Arami – 59, 66-69
1958                  S Eileen Schneider – 60, 63, 72-75
S Denis Dougherty – 59
1959                  S Berchmanns Weber – 60, 63-64
S Yvonne Lerner 60, 65, 75-77
S Lucille Bayer – 67, 70-72
1960                  S Georgia Felderhoff – 62  (Alvin Joseph's Principal!)
S Maureen Hess Dalton – 62
S Eileen Schneider – 63
S Gemma Vogel Broussard – 69
1961                  S Cabrini Arami – 64  (Alvin Joseph's Principal!)
S Virginia Hellman – 68
                        S Jane Cecile Benoit-Stubbs – 66  (Alvin Joseph's Principal!)
                        S Dolorsa Smith – 63, 65-66  (Alvin Joseph's Teacher)
1962                  S Pieta Decker – 77
S Carmelita Myers – 66, 71-72
                        S Louise Frankenberger – 65
1963                  S Monica Swirczynski – 67, 72-74
S Aloysia Kleiss – 65
S Gerarda Carns – 65
S Matilda Sparber – 70
1964                  S Joan Hess Hayden – 71
1965                  S Mary John Seyler – 70
S Romana Rohmer – 72
S Callista Swirczynski – 72
S Clare Sicking DePold – 68
S Edna Gomer – 68, 72-75
1966                  S Renee Cormier – 68
S M. Imelda
1968           S Rosaria Foley - 70
                  S Lillian Marie Reiter – 69, 70-72
1969                  S Jane Frances Dalmer – 77
S Elise Coco Fredrich – 70
1970                   
1971                  S Michelle Bullock Koch – 74
S Lillian Marie Reiter – 72
S Jeanette McGannon – 71
1971
1972
1973
1974                            S Clare Myers –
1975                            S Camille McNeil - 78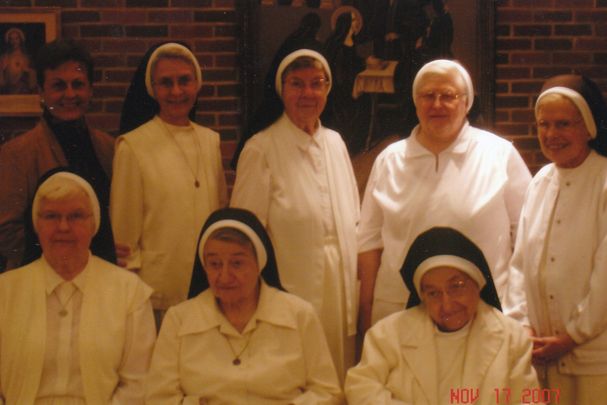 17 November 2007 My "OSB Oblation Day!"
Front Row, Lt to Rt:  OSB'S
(Goretti High School OSB'S)
Sr. Romana Rohmer
Sr. Cabrini Arami (RIP)
Sr. Louise Frankenberger )RIP)
Back Row, Lt to Rt:
Bernadette Monlezun-Pontón,OBL/RB
Sr. Mary John Seyler
Sr. Georgia Felderhoff (RIP)
Sr. Monica Swirczynski
Sr. Eileen Schneider
A variety of booklets of that time and before stand tall and are thumbed through by visitors with the most incredulous comments; 'Modern Youth and Chastity'1943, 'Instruction for Dating' 1960, 'Personality for Leadership' 1943, and 'Going Steady' 1958! I placed them here after receiving many from Msgr. Irving A. DeBlanc over time. Many visitors sigh in remembrance! Many more moms want a copy!!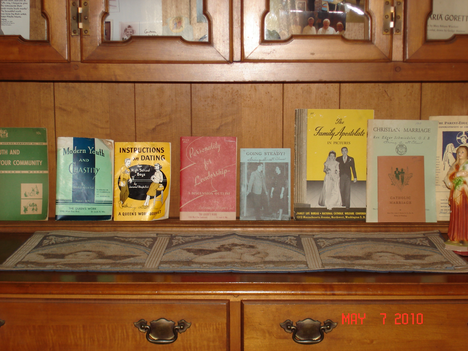 …I penned my brother co-owners…
 "In gratitude to Rev. Harry Pelous, Pastor and Founder and  for the genesis sacrifice of my parents where six of their children attended elementary and high school, I opened on November 5, 2004 the 'Saint Maria Goretti Catholic School Special Collections' with the McNeese State University Library Archives and Special Collections Department, Lake Charles, LA 
Part of the 'Special Collection' is exhibited here in our ancestral home of origin! The treasures are slowly finding their way to the 'Collection' as the word spreads.  Many of these artifacts  were recently gathered with the permission of one of the family owners of the SMG Catholic School Corporation just prior to the elementary school being razed during this the summer of 2008! July 31, 2008 (since updated) this compilation was written in gratefulness on the 23rd anniversary of Dad's death and within one week of their 67th wedding anniversary!" …
Dear Brothers Lee Joseph Jr. and Dominique Joseph, LLC
          as well as:  Most Rev. Bishops Jude Speyrer, Emeritus (my high school religion teacher), John Glen Provost and the 'Goretti Sisters' AR!
"In organizing part of the 'Special Collections' in 'The Back Room' on Arthur Avenue, I recently wrote a compilation of data…see below! Thank you, Brothers Two, for our ancestral home where many folk are learning and embracing her as a family matrix in artifacts, memorabilia, photos, paper and precious objects all shared for others to enjoy and learn. I wish I could send you every comment, tear, prayer or note of gratefulness from others! Know that you are stalwart stewards and, as your Caretaker, diligently take care in preserving the home through the stories in gratitude, respect and awe of our parents. We are the living spirit of those who have gone before and because we are grateful and so desire, we gather, preserve, make relevant and sustain a family heritage sequence through the "Lee Joseph and Anna 'Gertrude' Hensgens-Monlezun Business and Domestic Collection!"
Our parents sacrificed for their children's Catholic education:
…at a simultaneous juncture they had 5 children in 3 different schools"
1.  Immaculata Minor Seminary, Lafayette, LA:  3 sons at the one time!
2. St. Maria Goretti Catholic Elementary and High School, Lake Arthur, LA (1956-1989):  6 children in a row!
3. Notre Dame Major Seminary, New Orleans, LA: 1 son
4. Congregation of the Sisters of Divine Providence, Aspirancy Program, Castroville, TX:  eldest daughter
5. Our Lady of the Lake College, San Antonio, TX, summer session 1965:  eldest  daughter
 6. Trinity College (1985-1988) with Adjunct Professors from the Catholic University of America and the Dominican Seminary/House of Studies, Washington D.C. ~ eldest daughter as an adult!
Their children's children are receiving a Catholic education:
Immaculate Conception Cathedral Elementary School, Lake Charles, LA

Our Lady Queen of Heaven Elementary School, Lake Charles, LA

St. Peter Inter-parish Catholic School, Washington, DC

 

Our Lady Immaculate Elementary School, Jennings, LA
Carencro Catholic Elementary School, Carencro, LA

St. Genevieve Catholic Elementary School, Lafayette, LA
7.   Saint Louis Catholic High School, Lake Charles, LA
8.   Tuerlings Catholic High School, Lafayette, LA
9.   Loyola University Law School, New Orleans, LA
10. Spring Hill College, Biloxi, MS The first Catholic college in the Southeast, the third oldest Jesuit college in the country and the fifth oldest Catholic college in America!
·        In the post-conciliar church, Mom and Dad were two of the first Eucharistic Ministers commissioned in Our Lady of the Lake church parish in Lake Arthur, LA. Constance Victoria and Victor Wayne soon followed commissioned as Eucharistic Ministers and Cantor as charter members along with their children of Our Lady Queen of Heaven's (OLQH) Family Choir in Lake Charles, LA.
·        Post-military retirement in 1988 Héctor Rafael, myself and Antoine Adolfo became members of OLQH Family Choir. In 1983 while residing in Springfield, VA (and as members of St. Bernadette parish!), I began facilitating in my home/s a Silent Retreat Day teaching the 'Dailiness of Prayer', 'Ordering the Home' and 'Time Management with a Christian Perspective'; the first weekend of January 2001 after the death of our last parent, I requested of my siblings that I move this 'Silent Retreat Day' to our ancestral home of origin, as this is the genesis home and permission was granted!
While stationed in Washington, D.C., my pastor of St. Dominic (!) parish, invited me to attend Trinity College 1985-1988 and take advantage of an innovative curriculum of study called "Education for Parish Service" designed to "enable men, women and young adults to contribute more effectively to the work of evangelization by providing opportunities for spiritual development, high level instruction in theology, scripture, Church history and methodology for evangelization." Classes commenced three weeks after the sudden death of my Dad! During those years I was humbled to be commissioned in the chapel at the Chancery, Archdiocese of Washington, D.C. as Lector, Eucharistic Minister, Cantor, Wake Service and Communion Service Facilitator.
     Dominique Joseph and Tina Louise were commissioned as Eucharistic Ministers at Our Lady of the Lake church parish in Lake Arthur, LA where it all began! He also serves as Usher (Minister of Hospitality!) and served as a member of Our Lady Immaculate Catholic Elementary School Board & Finance Committee in Jennings, LA doing the tenure of all three children! They have purchased a second home in Lake Charles, LA so that their three children can attend St. Louis Catholic High School, and for them to be together on the weekends as our parents before us!
     Since April 24, 2001 I joyfully serve as a Minister of Holy Communion every Thursday and many Sundays at CHRISTUS St. Patrick Hospital as well as hold membership in the Catholic Daughters and Altar Society in OLQH parish and on July 19, 1998; along with Constance Victoria and Ione Marie as we became lifetime members of the Altar Society of St. Leo 1V Catholic Church, Roberts Cove, LA during their Centennial Celebration Mass with Mom in attendance. My medal along with Mom and her mothers rest on the Hensgens Wall on Arthur Avenue; her mother was a member of the Altar Society, a Catholic Daughter and charter member and Director of the St. Leo IV church choir!
In December 2000, I humbly received from the hand of Most Rev. Bishop Jude Speyrer, the Knights of St. Gregory the Diocese of Lake Charles Chapter 'The Distinction of Monsignor DeBlanc Fellow Award' in "recognition of outstanding contributions to church and neighbor without material recompense and whose life and work bring honor to the international community of mankind." 
     Daddy, Héctor Rafael, Lee Joseph, Jr., Dominique Joseph and my nephew, Kade Joel are members of the wonderful Knights of Columbus! Kade Joel is also a member of the School Board for Carencro Catholic Elementary School! Lee Joseph, Jr. was President of the Newman Club (Young Adult Catholic Organization) while in college! Robert Joseph, Jr. attended a Cursillo and is a member of the School Board for Tuerlings Catholic High School in Lafayette, LA!
     Five brothers were altar boys and in this next generation- Whitney Pierre lll, Branton Heath, Sye Joseph, Antoine Adolfo, Joseph Wayne as well as Dominique Joseph, Jr., Christian Joseph and the 18th  of 18 grandchildren, Suzanne Louise are commissioned altar servers!  Also in this next generation, John David, Christ the King Parish in Lake Charles, LA, Katherine Anne while in college in Baton Rouge and Antoine Adolfo, Jesus the Good Shepherd Parish while in college in Monroe, LA were commissioned  as Eucharistic Ministers. Antoine Adolfo shepherded at Sunday Mass and sponsored two friends who converted to Roman Catholicism through his church parishes' Rite of Christian Initiation of Adults (R.C.I.A.) during his junior and senior year of college! He sings Baritone with the Sacred Heart Cathedral Choir, downtown Raleigh, N.C. and delivers Meals on Wheels twice a month!!
     Dominique Joseph Jr. is the founder and outgoing president of Tulane University Students for Life New Orleans, LA. As of May 2009 he serves as the Louisiana Students for Life Executive President and works on national policy and legislation in Washington, D.C. with the Students for Life of America's national office! As of the Fall 2010 he is the Coordinator in the Pro-Life Movements'  'Medical Students for Life!' and is a MD/MPH Candidate, Class of 2015 Tulane University School of Medicine! He has been twicely interviewed on my diocesan Catholic television segment and his profound 'Reflections' are published www.leadkindlylight.net/READ_READ_READ.htm.   
     Madison Claire was an active member of the 'Pro-Life' Organization at St. Louis Catholic High School prior to graduation May 2009 and during her college days did wonderful apostolate work!  
     Katherine Anne and husband David Charles Dawson, Jr., who was on faculty at St. John Catholic High School and together hosted "Catholic Relationships" a one hour weekly Catholic Radio Talk Show in Plaquemine, LA. September 1, 2009 David commenced employ as Director of High School Youth Ministry, Our Lady Queen of Heaven in Lake Charles, LA. then Young Adult Ministry 2012. February 2010-2012 David was co-moderator with Renee A. Reina of 'Lead, Kindly Light About Youth" at the invitation and in celebration of my 20th year in Diocesan Catholic television!
     Parris Ann was a commissioned Eucharistic Minister in her Catholic High School! And her little sister, Makenzie Lynn is an altar server!!
     I humbly serve as Anchor of the Diocese of Lake Charles, LA Catholic television segment, "Lead, Kindly Light!" which commenced in 1990 during the tenure of Bishop Jude Speyrer, my high school religion teacher!
+3 May 2009, I was commissioned as an Associate with the Congregation of Divine Providence, San Antonio, TX 50 years after I entered their Aspirancy program to become a religious!
+November 2007 I was commissioned as a Benedictine Oblate/Rule of Benedict, Obl/RB, Holy Angels Convent, Jonesboro, AR with the Goretti Olivetan Benedictines Sisters!!!"
+ I was commissioned in 1986 with the first group (12!) of Associates of the Order of the Sisters of Notre Dame de Namur at Trinity College, Washington, D.C. While there I had the once in a lifetime opportunity to enroll in a program called Education for Parish Service (E.P.S.). After this two year life-changing (on-going) odyssey, I stayed on a third year as Communications Coordinator as this course of study was operating on two continents and in various states.  
This is just what I am aware of and/or remember for this compilation! I trust there is much silent, prayerful and faithful ministry being faithfully administered known only to the servant and tucked in the Sacred and Immaculate Hearts of Jesus and our Blessed Mother!! This march of servant hood witness continues all the way to and beyond eternal life…O, the power of holistic healthy witness!"
Received an email 4 August 2008 "…Thanks for all the information in this email!  It's amazing how much the Catholic Church has grown because of your parents and their sacrifices. Thanks for taking the time to document all that…I was shocked to learn that Goretti (elementary) school was razed in the summer of 2008, but not surprised.  The last time I saw it, it was in pretty bad shape, but I guess I just hoped that somehow it could survive and be used for some other good purpose.  That's really the end of an era!  But, life is full of letting go of the past and this is just one more example of that.  The good work that went on there will live on in the next generations."  
Sister Eileen Schneider, OSB ~ My Oblate Prayer Partner assigned November 2007!!!
Indeed, Sister! Indeed!