"The Lee Joseph and Anna 'Gertrude' Hensgens-Monlezun Special Collection!"
'The Girl's Room!' 
Well! We were the cat's meow when the Girl's Room and bath were built just for us in 1950! The boys had the entire upstairs but WE had built-in closets! There were twin beds and a full bed which I shared with Veronica Gertrude who never slept through a night of her six years on earth without her 'whittle' feet firmly nestled in my back!! This is a beautiful room which became Mom and Dad's bedroom during the last year of Dad's life. Poignant story…They attended the New Orleans World's Fair and bought one of the first king size electric beds on earth with dual controls! Daddy had broken his back in an accident in Monihans, TX at age nineteen and suffered untold pain during his entire lifetime. This bed had two separate mattresses and with his remote could adjust his aching torso and find relief. He did for one year, just enough time for as Mom said, "…we slept like spoons for 46 years and God separated us for one year, enough time for me to begin to get used to not having him so close!" Isn't that something! He died in this bed in the early morning 25 July 1985.
The first night in the new bed Mom heard him get up in the middle of the night with pillow in hand mumbling that he wanted his old bed in the front bedroom [remember ~ 46 years in that spot! Mom said he did that for three nights or so until she finally said, "You cannot keep changing beds, not for what you paid for this one. You'll get use to it I'm sure!!" That did it~ he settled in at age 67… for one year!  
The room-divider-swing-door was a cabinet door circa early! It has lived most of its life in the attic but I have always loved its uniqueness, therefore, had Mike Bussy stabilized her base and with a few hangings of vintage lace and bed jackets, viola, a hint of a room divider!! The wooden rocker to the left in the pic was my mother's chair when she was but a child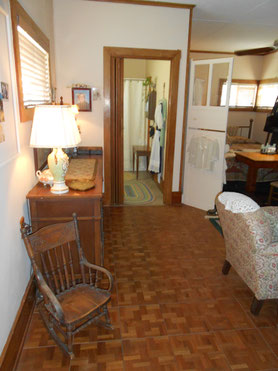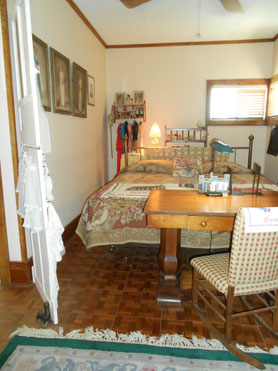 The vintage doll bed is center stage; I love this doll bed! In it I played with my doll 'Mary Lee' named after the Blessed Mother and Daddy (!), pretending I was her mommie tending and tending her!! I have recently taken her out of my closet and returned her to her original home for she has also moved 24 times just like her 'mommie'!! She is attired in one of my little one year old dress and cap for she has a serious receding Monlezun hairline! I swear she is beginning to age!
The doll bed is perched atop the organ which was such a delight for all upon its arrival circa 1957; Daddy bought it for Mom and she was thrilled for he bought it just for her and she played and played learning songs by ear. It was the most wonderful of sounds and her smile lit up the room. To the left in the photo are articles of clothing that we wore as young children…labels are never too far! Thrown over the headboard is an exquisite shawl for Mom purchased in Bogota, Colombia and a few of her wonderful bed jackets.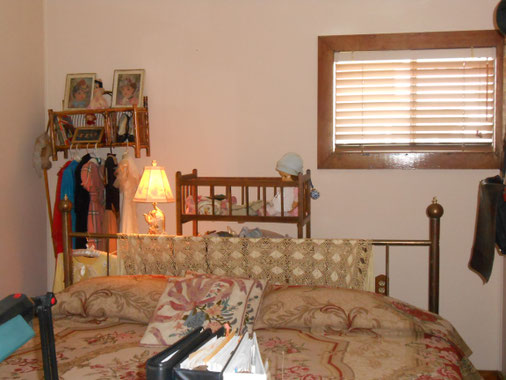 Mom wanted her daughters in formal gowns and placed in frames which grandma Hensgens had brought from Germany. It was our first time in such a formal way, roses et al; Mom was so proud to see her 'formal' daughters all in a row!! There were not enough frames for the boys!!
Veronica Gertrude's (b.1959 ~ d.1965) photo was recently enlarged, matted and framed for this Collection with her three sisters! Constance Victoria regally poses the night she was crowned "Miss Jeff Davis Parish Fair Queen" and at the same event won 'Miss Congeniality!' (I was "Miss Lake Arthur Boat Queen" but that photo in swimsuit has not resurrected itself to date!!)  Anyway, her crown took her, Mom and Dad to New Jersey in the motor home for the 'Miss USA Teenager' contest and yes, she finished in the top ten!! Mom later confessed that she was-a-praying that it would end there for all were ready to return home to their multiple children and order in the home; Constance said she prayed the very same prayer!
Notation ~ This important white dress is the only photograph of my sister-in-law's wedding dress that survives for Robert Joseph and Wanda Lynn's wedding album was lost to history somewhere between Lake Arthur and Alaska! Sacameh!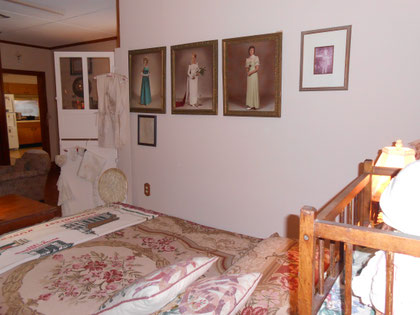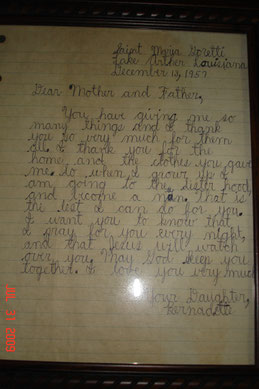 I was ten years of age and obviously very grateful to my parents for many things. The good Olivetan Benedictine Sisters had us compose a letter to our parents expressing this fervent gratitude. Mine is framed just below the rose; do know I spelled 'nun' as 'non' which is my favorite part…but fervent I was…and am…
This was Mom's room for seventeen years after the death of my father. After her death in 2000, and while I was in process of going through fifty-nine years of paper that was collected in this home with such large and extended families, the dual tracking of the House of 'Hensgens and Reiners' was begun and continues to evolve! Where else to put it all but on the wall…the "Christian Joseph and Maria 'Regina' Tellers-Hensgens Wall!"
Front and center is the name 'Hensgens' crocheted by request by Cecilia Habetz- Zaunbrecher of The Cove; her tatting is absolutely exquisite! The Wall tracks left to right  family memorabilia from Germany, a regional map across the 'pond' to Roberts Cove and beyond, Tellers Family Tree Maker, pencil drawing of the first St. Leo IV church and an aerial of the current church and cemetery where ancestors are buried. Family photos of grandpa Hensgens' sibling, the first five born in Germany and the last three born in Roberts Cove with labels of full names, birth, death dates with ages at year of death.
A very young grandma Hensgens poses in a photograph with the church choir of St. Leo's 1X parish in Roberts Cove; she was a soprano and director of the choir at one time.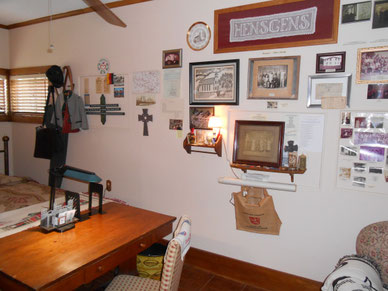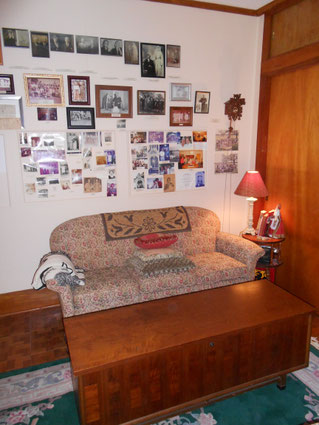 My brother Dominique Joseph and his wife Tina Louise journeyed to Europe on a pilgrimage September 2010. While in Germany he saw this cuckoo-clock with 2 carved crosses…he proudly and excitedly purchased this sweet reminder of the homeland that now chirps from the German Wall!! The children love it and wait for the birdie to pop out!! 
In this wonderful chest rest:
Mom's Sibling/Family of Christian Joseph Hensgens Binder

 

Mom's Sibling/Family of Catherine Frances Hensgens-Habetz

Mom's Sibling/Family of Conrad Leo Hensgens

 Mom's Sibling/Barbara 'Leona' Hensgens-Berken-Smaihall

 Mom's Sibling/Family of Nicholas Anthony Hensgens

Mom's Sibling/Clarice Jeanette Hensgens-Gauthreaux

My Parents Trip to Germany Vol. 1, 1981

My Parents Trip to Germany Vol. 2, 1990 (ordered July 2007)
The three closet shelves have become the inventory supply shelves stocked for events in the home and ever replenished. In the very top closet that once held blankets, now stores the large composite of printed data for the highlighted Hensgens Family/ Germanfest 2007 and Reiners Highlighted Family/Germanfest 2008! In the center chest are all things German…my parents trip to Germany twice, binders of correspondence and pics from  my mom's siblings, necrology binders of Cove people (2). These are archival 'paper' that is part of the Collection of fifty-nine years in one place!
The 'Franz Anton and Maria 'Veronika' Knoben-Reiners Family' legacy data (my maternal grandparents) is also announced by the treasured crocheted name hand made by Ceil Habetz-Zaunbrecher in 2009. The Wall connotes their photo and those of their children as well as their death cards which I found in Mom's prayer book just in time for Germanfest 2008 for this family was the 'Highlighted Family"! The Reiners pioneer home in The Cove is framed and lovely. The 'Reiners Family Tree Maker' print-out in the frame calls all by name! 
An exquisite covered dish from Germany is here as it was a treasure belonging to my great-grandmother Maria Veronika Knoben-Reiners, and her precious rosary with V.R. initialed on back of the corpus is on the little shelf.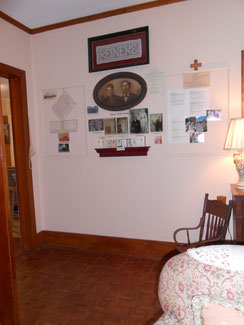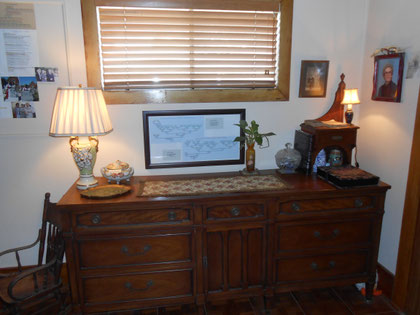 This is the room where, while she was setting my hair for a major doo, my younger sister Constance Victoria and I wrote the song "Cajun Girls" which took us all the way to New York City and an audition for the Ted Mac Amateur Hour around ages 14 and 11!!! Our eldest brother, Lee Joseph Jr. at about 19 years of age was our chaperone and tended us just fine! Story ~We were in a cab on our way to Grand Central Station in plenty enough time to depart NYC but the 5:00 p.m. rush hour came early! He told us to get out of the cab; we did…he grabbed Constance's hand very tightly and handed me the blue suitcase with cash and clothes in it with explicit instructions to keep up and not to let go of that 'grip!' I didn't and kept up with them block after block after block dodging people, so many people! I played basketball and baseball and that helped with the dodging, thank God!! We made it in the nick of time and once in my seat on the train, he had to pry the handle from my tight hand and with a tired smile on his face slipped a cup of water in its place. That was tending!!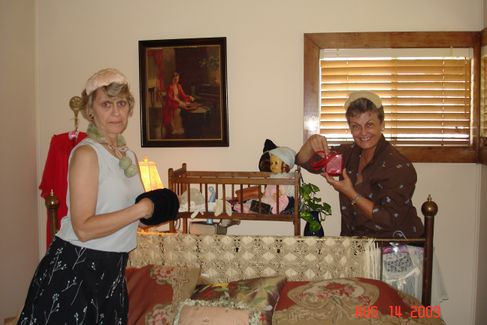 The Vintage 'Cajun Girls!'
Here ti-tis!!
Refrain: "We're Cajun Girls, little Cajun Girls, we work all day on the bayou
We sing sweet songs as we go along…we'll never, no never, break up!!
Vs 1. My Mama's got ten little mouths to feed
We're always helping out!
My Papa comes home he's tuckered out
And he finds us singing this song!
Vs. 2. We go to town in the little pirogue
Floatin on down the bayou!
The people all say there's the Cajun Girls
They also find us singing this song!!!
Now, what do you think? Were we 'American Idol' potential or not?! Our repertoire consisted of  'Cajun' songs before Cajun was Cajun:  'Mamou', 'Colinda', 'Jambalaya', 'Cotton Fields', 'Louisiana Medley' and I just don't remember what else!
Thought you'd never ask! The original copy is penciled in long hand, framed and hangs on the wall in the closet!
News Flash! Just talked to Constance Victoria as I couldn't remember the last verse ~ she said, which is too-o much…"You remember Michelle, the baby in diapers, in the home of the Lake Arthur lady that we stayed with while in New York?! I ran into her recently at Super Walmart and she, who was with Steve Marceaux's sister (!), said that her Mom had taped us rehearsing for our audition!!! And, that she would send a CD of the recording!!!"
How fortunate you are to be able to hear THAT soon at this very spot! Check back and click and roll…that's what we will be doing!!! What timing!! Sacameh!!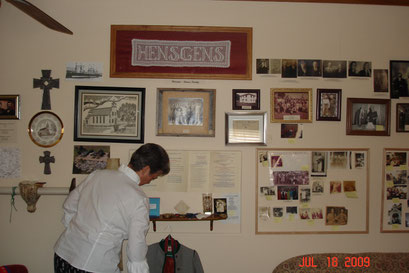 … tending, indeed, all the years later…."we work all day on the bayou…"