"The Lee Joseph, Sr. and Anna 'Gertrude' Hensgens-Monlezun Special Collection!"
 'Upstairs!'
This is the wonderful upstairs where my parents lived right after they married in that they rented the downstairs for fifteen dollars a month! Mom shared 'the box' (refrigerator!) with the renters. One day upon my father's arriving home for lunch he found Mom who was fully 'with child' going up the stairs holding a bottle of milk. He said, "OK! Monday we switch this arrangement. The renters move upstairs and we move downstairs." My mother thought that she "had moved into a mansion!"
Six boys made this area their barracks three to a room in gradually declining numbers over a seventeen year stretch! It is now called 'Rev. Mother's Suite' for when I heard that the Mount Carmel Sisters accepted our invitation to utilize the home for a few days, I quickly fixed this area up for the Prioress, hence the new/old name!! She never wanted to go downstairs! And, when rain hits the tin roof…well what could be better than that?!!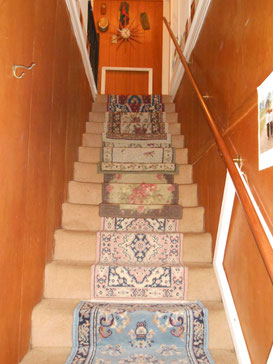 Recently I needed to think of doing something with the carpet on the stairs for it has endured many-a-year of the little and larger feet trodding up and down, up and down! Well, I thought of 'something else!' We gathered all those little throw rugs in our homes because we were told as you elder in place one should not have those things in their house anyway!! So, here they are nailed in place resembling Grandma Monlezun's patchwork handwork don't ya think?! Wouldn't she proud that her eldest granddaughter can sew…uh, rather Grandpa Monlezun would be proud  that his eldest granddaughter can use a hammer!! Groups love it and find it very original!
My father's double-breasted linen wedding suit and white leather shoes are displayed next to Mom's suit from the 40's and her wedding shoes. Mom wore this lovely brown suit for her parents' 40th wedding anniversary grand celebration captured in a wonderful photo in the German Room!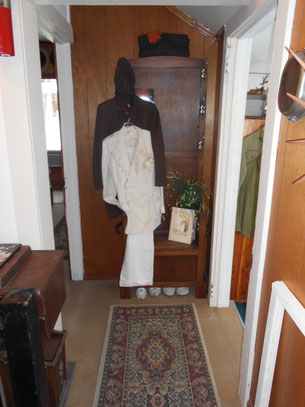 This is my favorite space in the home…the original kitchen now the "library!"
In 1941 they was a little table with two chairs, a two-burner kerosene stove, a little sink and an adequate standing cabinet with a hook on the wall for her apron! In my minds eye they are in this room planning their future together with children, Daddy's dreams for his businesses, O, the places they will go and all of their wonderful aspirations! All this dreaming of course while feasting on Mom's rice dressing, pork roast and stewed potatoes with fresh cucumber, onion tops and tomato salad from the garden…O, and sweetened ice tea! Now there are stacked books and books and more books and no stewed potatoes!!
This is where I set up shop every Friday with my laptop, binders and books sorting through a lifetime of 'paper' to place in folders and binders galore! I love working in this genesis room where my mind and heart are one and at peace as I humbly pray, gratefully listen and joyfully write!!  Gregorian chant is the music of choice as I contemplate all that was, is and can be!!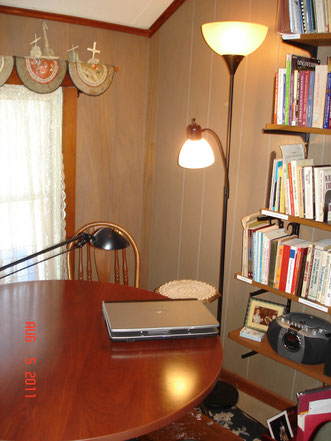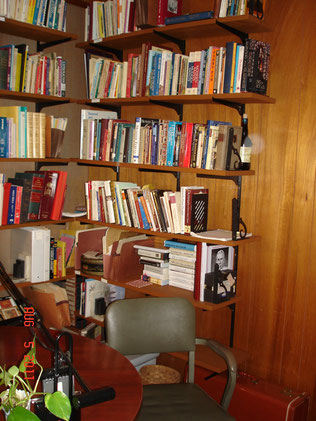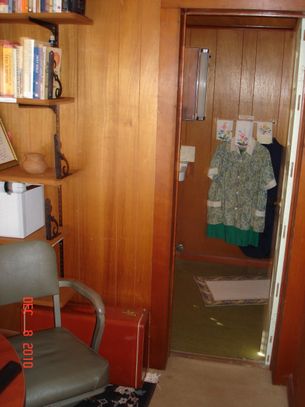 The "White Porch Room" was a screen porch like downstairs but also was closed in and utilized as their original bedroom. I love the wood work in this room. There is a timer on the lamp in the window which lights up at dusk for a little while shining a sweet light of remembrance. Friends have commented on liking the light and look for it when they pass the old home place.
The little desk was for the younger siblings and also used by the next generation. It holds whittle paper, books, coloring books, chalk and the lamp!! The bottom is loose as it should be so I will just leave it that way for a while!!
The grand old rocker that squeaks belonged to my maternal grandmother and where my Grandpa Hensgens would rock with his cane on his lap snagging his grandchildren as they sauntered by!! You had to be fast!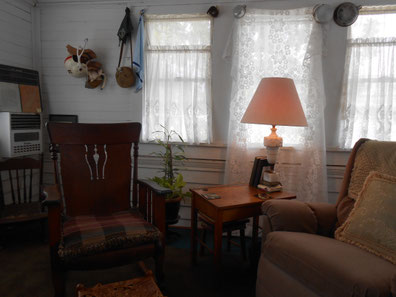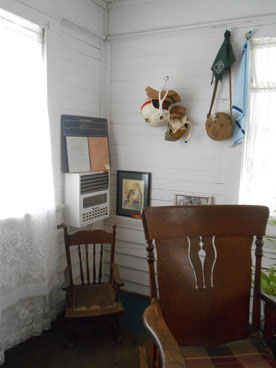 The cedar chest has never moved so its doors are behind her now and shelves were custom made by Mike Bussy for the memories! The boys' Scout uniforms and their scouting accoutrements are displayed here as they spanned from Cub to Eagle Scouts. Their scout shirts and belts, Sunday suits with the thin black tie as well as my brother, Alvin Josephs', very own shelf of precious memories; his overcoat completes the circle. His bird house is here, Grandpa Monlezun helped him build it, and together they hung it on a low branch from the front magnolia tree when Alvin was very young! I was there!
Dominique Joseph's wonderful 'artifacts' are sprinkled throughout this area. He was so excited to see his knife and scouting hachette on the shelf excitedly showing it to Tina Louise and Suzanne Louise and then, he carefully placed it back on the shelf! His warm smile was priceless!
'Arthur Avenue Heritage Tour' adults love this room; they comment on the light! The children love seeing 'the stuff' especially the train and Boy Scout accoutrements!
I just simply nailed up along the top of the lace curtains some of the scouting outdoor items used on their trip to the woods; I think they go perfectly with the lace! Alvin's football helmet and Sunday hats are together again!!!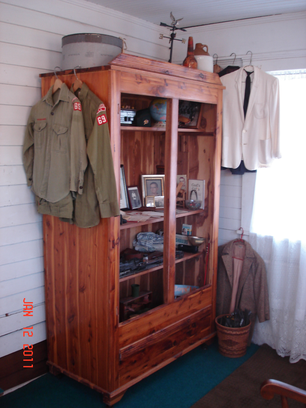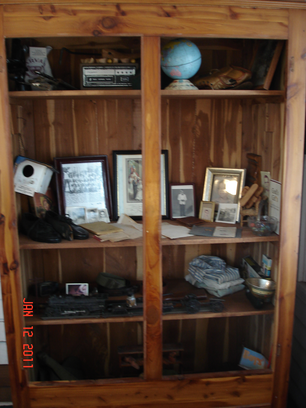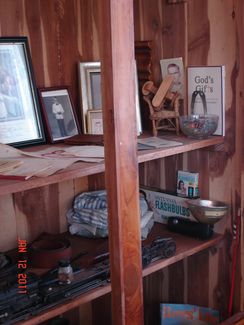 The handmade cypress prieu-dieu was presented as gift 21 December 2007 by Alton and Gloria O'Blanc. She had attended a Silent Retreat on Arthur Avenue, went home and requested of her husband to "make Bernadette a prieu-dieu!" And, he did utilizing 11 pieces of cypress from a 200-year old tree that was dredged up from the bottom of the Mermentau River and dried for 4-plus years. Gloria fashioned the kneeler wrapped in our favorite colored cloth; she had requested a piece of wood from the home while departing Silent Retreat day and the crafted cross is front and center on this most precious of gifts! I pray for this wonderfully generous and talented couple at every kneel! God bless the O'Blancs. It is wonderful to see the Magnolia tree from this angle as the light shines through!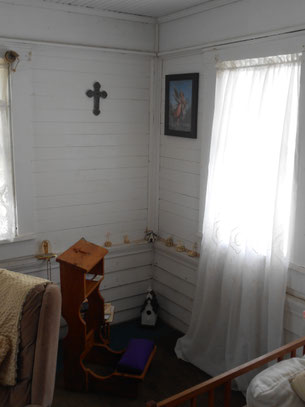 The playpen holds the handmade vintage quilts and lap blankets which are utilized come winter. A new white ceiling fan is a perfect finish to this room; napping in this chair is absolute heaven.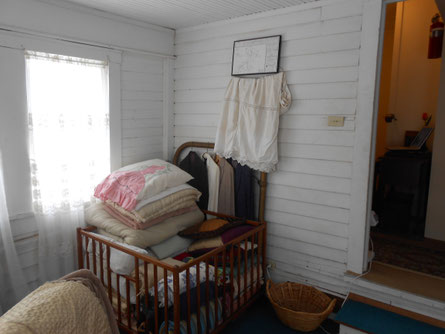 This was their first Living Room now "Rev. Mother's Room" with the original furniture consisting of a bed, chest of drawers and a sweet desk. Mom's dresses hang from original nails in the wall! I love to read in this rocker next to the brass floor lamp that was in my 7th floor office in the LA State Capitol building in 1973!!  Here also is the compilation of my nephew Dominique Joseph, Jrs' Reflections over time and that his brother, Christian Joseph! It is right that I discern them here in their father's original bedroom! Like his father before him this is the space in which to read of The Father's love for his children and people.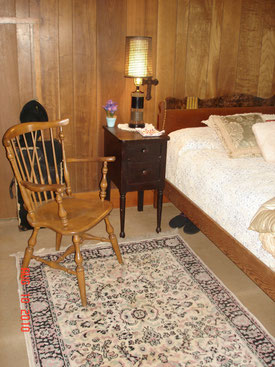 HATS! Four generations of hats as depicted in photos on the dresser; right to left ~ Grandma Hensgens, Mom and Aunt Leona, Anna Bernadette and Mom, Constance Victoria and Suzanne Louise, whose beautiful photo started this whole wall of hats ~ 36 hats! Then what was  natural to follow was the Collection of Handbags on the left; and, what went with the Bags but the Collection of Gloves. What a delight to have in 'Rev. Mother's Room!!!'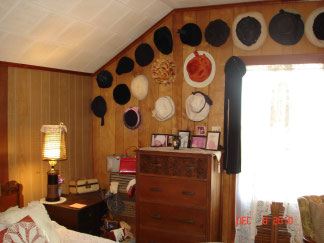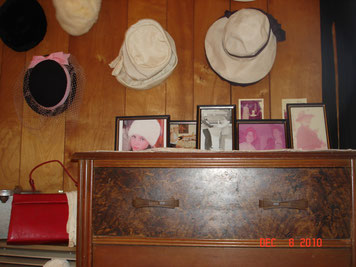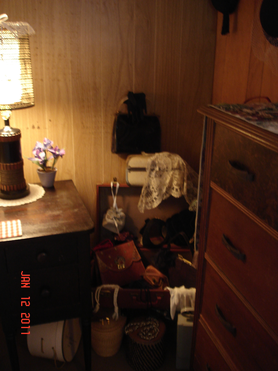 The door leads to what was once an outdoor staircase but after the boys moved upstairs Daddy removed the outdoor stairs!! The quaint little door remains and is perfectly placed lace and all!
The 1904 attic received its first real floor in 2009!! It even sports a carpet runner with all good things on each side under the rafters of tin. Intriguing place… my nephew Christian Joseph thinks the space would be perfect as a chapel!!  I agree and the children agree… um–m-m!!!!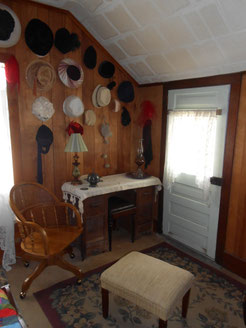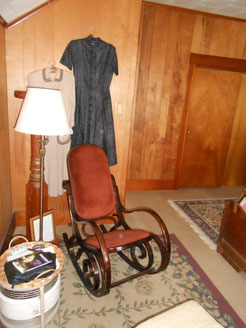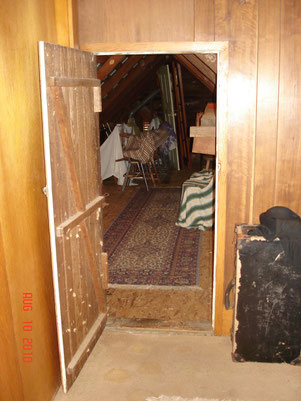 I really love this little upstairs space that reigns and rings in my memory to this day!!
 It is a perfect monastic cell!